Issue #84 / Nov 2007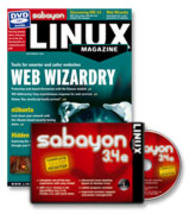 Organizing the web with microformats
Microformats are simple HTML tags that reveal information about web data. We'll show you how to take advantage of this handy technology.
Learning Ruby Linux Appliance Design...
Preview of KDE 4.0
The first KDE 4 beta release gives users a sneak preview of the many innovations the next K Desktop generation will introduce.
Security testing with nUbuntu
Study your network's defenses with the Ubuntu-based nUbuntu security testing distribution.
KNOW-HOW: Xnee
Recording and playing back screen activity
Xnee, Gnee, Cnee, and Pnee – these strangely named tools record and play back mouse and keyboard actions.
Klaus Knopper is the creator of Knoppix and co-founder of the LinuxTag expo. He currently works as a teacher, programmer, and consultant. If you have a configuration problem, or if you just want to learn more about how Linux works, send your questions to: klaus@linux-magazine. com
The sys admin's daily grind: WebCalendar
Users log on to services such as SSH, ftp, SASL, POP3, IMAP, Apache htaccess, and many more using their names and passwords. These popular access mechanisms are a potential target for brute-force attacks. An attentive bouncer will keep dictionary attacks at bay.
Building high-performance clusters with OpenSSI
The OpenSSI framework rearranges processes for easy and transparent clustering.
Serve a daily dose of information
When tackling something complex, such as a foreign language or Vim commands, digesting small bits of knowledge might be more effective than consuming a super-sized meal of information. This month's Perl column gives you a method of serving up knowledge snippets by email.
Document circulation with CuteFlow
The CuteFlow document circulation system supports cross-platform document exchanges. CuteFlow is easy to install and configure but still has a couple of weak areas.
Visit Our Shop
Direct Download
Tag Cloud