Issue #87 / Feb 2008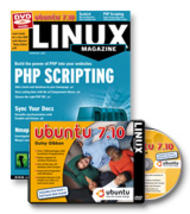 NORWEGIAN LINUX-MAGASINET DISCONTINUED OPEN SOURCE GATHERING IN TAIWAN INDIA'S LINUX WOMEN STEP UP OPEN SOURCE IN RU......
The Ubuntu project continues its conquest of the Linux desktop with Ubuntu 7.10 "Gutsy Gibbon." Gutsy comes with new......
I am an 80-year-old British Linux Magazine subscriber living in France. I have a Medion 17" Laptop and still have X......
Tools and techniques for PHP with Linux
PHP is becoming an essential tool for all but the simplest websites. This month we examine PHP in the Linux environment.
Choosing a PHP integrated development environment
Shopping for a PHP integrated development environment? We test drive a few of the leading candidates.
Working with PHP online script archives
As a PHP Programmer, you may occasionally find yourself at a dead end. Discovering the perfect code snippet, script, or class to use alongside your own code can save time and frustration.
PHP programming in the Eclipse IDE
The PHPEclipse plugin brings the PHP scripting language to the Eclipse development environment, and the Subclipse plugin integrates version control.
Easy PHP with the eZ Components library
eZ Components is a free enterprise-level PHP library that uses state-of-the-art language features. We show you the library's potential on the web and at the command line.
MediaWiki Administrators' Tutorial Guide Understanding MySQL Internals Wikis for Dummies ...
Calendar management with Sunbird
Mozilla Sunbird may be just what you need to help you manage your appointments and tasks on Linux.
Visit Our Shop
Direct Download
Tag Cloud