Issue #88 / Mar 2008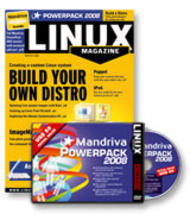 Full PowerPack with exclusive commercial add-ons Everything you need for home, office, and the Internet......
I often use this space to muse on some major news story for the month, but once in a while I take a break from the n......
FOSS.IN to Foster Indian OSS Events SELF Open Documentary Contest OSS Guide for SMEs Sweden Free So......
The Linux kernel mailing list comprises the core of Linux development activities. Traffic volumes are immense, often reaching ten thousand messages in a given week, and keeping up to date with the entire scope of development is a virtually impossible task for one person. One of the few brave souls to take on this task is Zack Brown. Our regular monthly column keeps you abreast of the latest discussions and decisions, selected and summarized by Zack. Zack has been publishing a weekly online digest, the Kernel Traffic news letter for over five years now. Even reading Kernel Traffic alone can be a time consuming task. Linux Magazine now provides you with the quintessence of Linux Kernel activities, straight from the horse's mouth.
With easy installation and a sophisticated set of system administration tools, Mandriva Linux is one of the world's......
Vision: I've recently had laser surgery to correct my vision, and it's incredible to see clearly without contact l......
Tools and techniques for creating custom Linux systems
Tools such as Linux From Scratch, NimbleX Live CD Generator, Kiwi image system, and the Ubuntu Customization Kit can help you create your own custom Linux system.
Creating a customized Linux with Linux From Scratch
Linux From Scratch helps you create a custom Linux system with everything you need and nothing more. And as you build your system, you'll get an insider's look at how Linux really works.
Building a custom Linux with the NimbleX Live CD Generator
If you want customization without all the fuss, then try building your own custom ISO image with the web-based Custom NimbleX Live CD Generator.
Creating a Live USB stick with Kiwi
The Kiwi image system lets you create bootable images for a variety of purposes. We'll show you how to use Kiwi to create a Live USB stick.
Visit Our Shop
Direct Download
Tag Cloud