Issue #88 / Mar 2008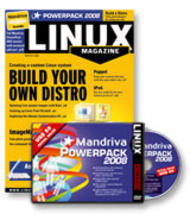 COVER STORY: UCK
Building custom Ubuntu systems with UCK
We'll show you how to create a custom Ubuntu ISO with the Ubuntu Customization Kit.
Reviews of Absolute FreeBSD, 2nd Edition; Knoppix Hacks, 2nd Edition; and Linux Networking Cookbook....
Examining the Asus Eee PC
The much discussed Asus Eee PC miniature computer is lots of laptop for a small-scale price.
Connecting a MIDI keyboard to your Linux system
A MIDI keyboard is a useful extension to any audio workstation. Learn how to connect a MIDI instrument to your Linux sound studio through a MIDI interface device.
A little Linux with more bite than bark
We'll play with Puppy Linux, a well-trained little Live CD Linux that requires minimal housebreaking.
Klaus Knopper is the creator of Knoppix and co-founder of the LinuxTag expo. He currently works as a teacher, programmer, and consultant. If you have a configuration problem, or if you just want to learn more about how Linux works, send your questions to: klaus@linux-magazine. com
Backing up for portables with Box Backup
The Box Backup network backup tool is a simple and secure solution for traveling clients. We'll show you how to get started with this open source tool.
The sys admin's daily grind: Netstat-nat
Without Network Address Translation (NAT) on many LANs, the IPv4 Internet address space would have been exhausted years ago. Still, it's probably a good idea to check what comes through your NAT connections.
SYSADMIN: IPv6
Examining IPv6 on today's Internet
Is the world ready for the next generation Internet Protocol? We take a look at Linux with IPv6.
Manipulating your machines with Puppet
Learn how to save time and streamline your system administration with the help of Puppet, a centralized configuration management tool.
Visit Our Shop
Direct Download
Tag Cloud