Issue #90 / May 2008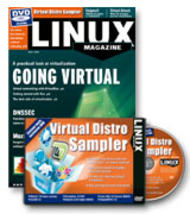 This month we bring you a Virtual Live Distro Sampler created exclusively for Linux Magazine and Linux Pro Magazine.......
All-Indian FOSS Month Pimp My LugRadio Contest Linux at the Natural Park...
...
Choosing tools for effective virtualization
Good tools are half the battle – even if you are just managing virtual machines. This month we take a practical look at virtualization, and we show you a new threat to watch for in the virtual future.
Getting started with Xen virtualization
The powerful and popular Xen virtualization system offers an easy solution for running Windows on Linux.
Networking with VirtualBox
Tour the VirtualBox virtualization tool, a free and easy environment for virtual versions of Linux, Unix, and Windows.
Visit Our Shop
Direct Download
Tag Cloud