Virtual Distro Sampler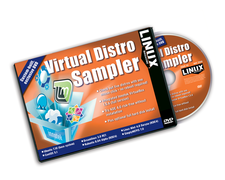 This month we bring you a Virtual Live Distro Sampler created exclusively for Linux Magazine and Linux Pro Magazine. Try out any one of the five Live distros without rebooting.
The Live base system is a fully installable version of Ubuntu 7.10 Gutsy Gibbon – with all the latest updates and security patches. Ubuntu 7.10 comes with better security, improved 3D effects, write support for NTFS partitions, a new automatic printer configuration feature, improved power management, and additional updates and enhancements.
Running on Gutsy Gibbon is the VirtualBox 1.5.6 virtualization environment. Inside this virtual environment, you can sample and test any of the following Live distributions:
[...]
Comments
issue 90 Virtual Distro #$!!%!!

After several months, I decided to assemble a system to run and install your Virtual Sampler DVD from issue 90. I had a few false starts with some bad DVD drives, I even copied the DVD-ROM, but eventually I was able to "install" your Ubuntu from the DVD. But...it did not recognize my login name and password!

I tried different spellings. I reinstalled and tried different names and passwords. About three more hours went by. Oh, I see "ubuntu" is a login name and password, but it has no privileges, so I can't read off the users, to see if I misspelled something. Then, I thought, "I'll look on the magazine site to see what they say". Hunt, hunt: "oh, a small error, the installer doesn't add any users...here's a workaround....let us know if this solves your problem, we apologize for the inconvenience".

Yes, your "fix" gave "ubuntu" enough privilege that I could log in with it and create admin accounts. I see no point in ranting about how every Linux distro and version I install, gives me some kind of grief like this. But all Linux users and developers have "no problems" dealing with these issues; I've given up in trying to explain that Linux for Windows users, is like French to English-speakers, they just think I'm stupid (he he) for not speaking their "French". Or that I'm evil for using paid-for software, etc. etc.

However, all the interesting software I'd like to use or play with, comes in Linux form now. Windows software is all the commercial stuff at high prices. So, either I spend a lot of money, or I trip over every install of every change in every distribution and every version of every package I MIGHT want to run in Linux. And then, months later, it all changes again, and I either keep installing new versions, or I wipe it all and get a new distribution.

That's how Linux looks to a good number of people, who are not dummies.

Signed,
Herb (deleted)
comments powered by

Disqus