Issue #92 / Jul 2008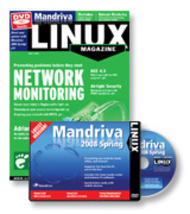 Log file analysis with the Nagios check_logfiles plugin
The Nagios check_logfiles plugin helps you monitor your logfiles – even if the logs rotate and change names.
Adding a homebuilt warning light to your data center
A clever combination of Nagios and a doityourself traffic lights lets you know how your network is feeling.
Wicked Cool PHP: Real-World Scripts That Solve Difficult Problems Building a Server with FreeBSD 7 Refa......
Gnome 2.22 overview
The new Gnome appeared in March and includes improvements for both users and developers. We'll tell you about network-transparent filesystem access, improved usability, and new programs in the latest Gnome.
GNU Compiler Collection 4.3
The latest GCC 4.3 is set to take the programming world by storm with new optimizations, experimental support for the next-generation C++ 200x standard, an optional parallelized C++ STL, and a new Java compiler courtesy of the Eclipse project.
Easy Backups with Flyback
The rsync-based Flyback tool automatically creates snapshots of critical directories at regular intervals – and ordinary users can restore the backup with a few easy mouse clicks.
The Adriane desktop for the sight impaired
The Adriane audio desktop system delivers Linux to sightimpaired users.
Easy network access with Wicd
Mobile users change networks in rapid succession. Wicd quickly and conveniently manages the corresponding profiles.
Klaus Knopper is the creator of Knoppix and co-founder of the LinuxTag expo. He currently works as a teacher, programmer, and consultant. If you have a configuration problem, or if you just want to learn more about how Linux works, send your questions to: klaus@linux-magazine. com
The sys admin's daily grind: phpLogCon
Using SQL to sift syslog data out of a database is an admittedly universal, but also fairly convoluted approach. phpLogCon, with its web interface, gives admins an easier option.
Visit Our Shop
Direct Download
Tag Cloud