Issue #94 / Sep 2008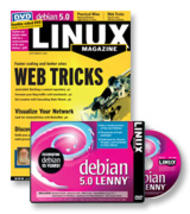 Pollsters, pundits, economists, taxonomists, hackers, trackers, analysts, and panelists have all suggested that maybe the economy isn't doing so well. No one is really sure how long it will last, but many of us have the feeling we've seen this before. Just when you think you've figured it all out, the business cycle swings around again.
University builds open source payment system Open Source City Liverpool New tiny Brazilian Live Distro......
Professional users are always searching for an edge. Whether you work with Linux as a webmaster, programmer, system......
The iconic Debian Project has long been a Linux leader. As the world's biggest and most popular community distro, Debian is built by a worldwide army of hundreds of developers. The focus is on freedom: Debian is 100% free software, with no proprietary applications or drivers. And Debian is stable.
Tips and techniques from the world of web development.
Busy web developers are always looking for an edge. This month we explore some tricks for faster and more effective websites.
Configuring Trackbacks in Drupal
Trackbacks offer a simple means for bloggers to connect and share information.
Techniques for extending your website with CSS
Cascading Style Sheets (CSS) can do much more than define the color and font of your web text. We'll show you how to build the power of CSS into your web creations.
Exploring the Jackrabbit Java Content Repository
Speed up your web development with Jackrabbit, an open source implementation of the Java Content Repository standard.
Load balancing with the Apache http server
Today's web performance and availability requirements make load balancing indispensable. In this article, we show you how to set up an effective load balancing system using features built into the Apache web server.
Visit Our Shop
Direct Download
Tag Cloud