Issue #96 / Nov 2008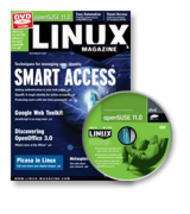 DVD: openSUSE 11.0
OpenSUSE is the community arm of the venerable SUSE Linux – one of the oldest and most popular Linux distributions i......
Linux Terminal Server Project in Portland Provincial Government in Canada Sued The Philippines Celebrat......
Professional users are always searching for an edge. Whether you work with Linux as a webmaster, programmer, system administrator, or security consultant, you know the best solution depends on finding the right tool for the job. We thought you might be interested in the following new products and updates.
Techniques for managing user identities in Linux
Maybe password security isn't perfect, but most networks depend on it. This month we examine some tools for smarter, more versatile authentication.
Secure authentication with one-time passwords
A one-time password won't compromise security if it falls in the wrong hands. OPIE and OTPW bring the safety of one-time password security to Linux.
Linux authentication with Active Directory using Kerberos 5
Microsoft's Active Directory system provides centralized user management and single sign-on. If you're ready for a few manual steps, Linux can leverage this potential.
COVER STORY: OpenID
Identity management on the web with Open ID
OpenID offers an open standard for logging on to closed-door websites.
Visit Our Shop
Direct Download
Tag Cloud