Optimizing bash scripts for multi-core processors
Parallel Thinking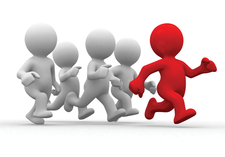 You don't need a heavy numeric mystery to benefit from the wonders of parallel processing. This article describes some simple techniques for parallelizing everyday bash scripts.
If you want a piece of software to execute a task in parallel, the first challenge is to split that task into meaningful subtasks, which the computer can then processes simultaneously. Libraries such as OpenMP help programmers achieve this kind of parallelization.
Bash scripts typically don't handle numeric problems, so most programmers don't think of a bash script as a candidate for parallelization. The venerable bash shell, however, is used for other types of jobs that lend themselves to a parallel approach. For instance, a bash script is often employed as a tool for processing multiple files in the same way.
Listing 1 shows a shell function that processes all the arguments in the script one by one and passes the results to a program (doSomething). In this scenario, it is easy to imagine the benefits of some parallel-processing techniques.
[...]
comments powered by

Disqus