Issue #101 / Apr 2009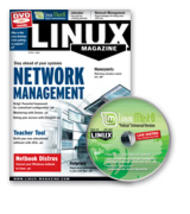 "FELICIA" UNIVERSAL VERSION
This easy-to-use system mixes an inspired collection of standard Linux apps with a set of innovative and original management tools.
Plurality in Veneto's IT Infrastructure EUPL in all official EU languages Venezuela trains it workers Dutch edu......
"Felicia" Universal Version
Mint is a rich desktop Linux with a growing circle of fans around the world. This easy-to-use system mixes an inspir......
New Chip Design for Netbooks Lenovo Produces Dual-Screen Laptop Zine: Python-Based Blogging Software......
Flexible tools for configuring and managing your systems
Professional admins with tightening IT budgets are always looking for new tools that will help them do more with less. This month we feature some popular open source applications for deploying, configuring, updating, and monitoring software and systems on the network.
Managing the network with Cfengine
Automate admin tasks with the powerful Cfengine framework.
COVER STORY: Bcfg2
Configuration and change management with Bcfg2
The powerful Bcfg2 provides a sophisticated environment for centralized configuration management.
COVER STORY: Zenoss
Monitoring the network with Zenoss
Find out how the free and flexible Zenoss tool can help you monitor your network.
Visit Our Shop
Direct Download
Tag Cloud