Command-line productivity tools
Finger Work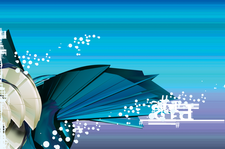 Read email, use your calendar, and check RSS feeds faster than you can say, "Ooooo, pretty."
Thanks to applications like Firefox, Thunderbird, and OpenOffice.org, you can do most of your work without leaving the convenience of the graphical environment. But that doesn't mean that point-and-click is the only way to productive daily computing. In fact, there are quite a few command-line productivity tools that you can use to perform many common tasks, such as reading email, keeping track of your appointments, and checking RSS feeds.
Switching to command-line applications might seem like a step backward, but it makes sense for several reasons. The first reason is speed: Even the most advanced command-line tools require only a fraction of the system resources consumed by their graphical equivalents. Also, because command-line applications don't include any visual embellishments, such as buttons and toolbars, they provide a distraction-free work environment and fit small screens better. Efficiency is another important factor. Most command-line applications can be controlled using just a handful of keyboard shortcuts, and once you've mastered them, you can work faster than with any graphical application.
Terminal Emulators
Before you dive into the command-line world, you might want to replace the default terminal with a more flexible tool, such as Tilda for Gnome or Yakuake for KDE [1]. Both utilities are loosely based on the Quake terminal; they run constantly in the background and you can show and hide them using a keyboard shortcut. This seemingly simple mechanism makes a big difference when working with command-line applications. Tilda and Yakuake are available in the repositories of most mainstream Linux distributions, so you can easily install them using your distro's package manager. Both terminal emulators are highly customizable, easily allowing you to tweak their appearance and behavior (Figure 1). Moreover, Tilda and Yakuake support tabbed interfaces, so you can run multiple apps in separate tabs.
[...]
comments powered by

Disqus