Ebook readers for the Linux desktop
Fresh from the Press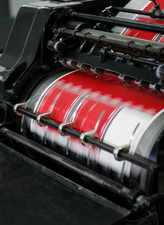 A netbook and a good ebook reader are all you need to mine the wealth of free ebooks glimmering from the depths of the web.
Despite the wealth of free ebooks available on the web, the idea of reading books on a computer hasn't really caught on. In part this is because desktop machines, and even laptops, lack one key feature – convenience. But the arrival of netbooks might change this. These tiny and inexpensive machines finally make reading ebooks practical. All you need to do to turn your diminutive travel companion into a nifty reading device is install a good ebook reader. A number of these applications are out there, such as FBReader, GutenPy, or Calibre.
FBReader
Originally developed for Sharp Zaurus, FBReader [1] is now available on a variety of platforms, including Linux and Google Android. FBReader packages are available for many popular Linux distributions, including Debian, Ubuntu, Fedora, and openSUSE, so you can install FBReader using your distro's package manager.. For Debian and Ubuntu users, the FBReader project provides an official repository [2], so you can install the application with the Synaptic package manager.
Despite its spartan interface, FBReader is loaded with useful features (Figure 1). For starters, the reader supports most popular ebook formats, including EPUB, FictionBook, OpenReader, RTF, OEB, unencrypted MOBI, and plain text. FBReader's interface doesn't stand in your way; instead, it gives you quick access to all essential functions.
[...]
comments powered by

Disqus