Editing PDFs with OpenOffice.org
Repackaged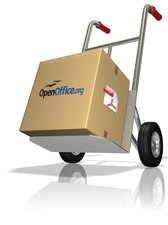 OpenOffice has always been able to export PDF documents. Version 3.0 is the first to introduce an extension that lets you import and edit PDFs.
Adobe originally designed the Portable Document Format (PDF) as a display-only format for platform-independent document viewing, but several tools for editing PDF documents have appeared over the years. OpenOffice.org version 3.0 (OOo) brings the power of PDF editing to the free OpenOffice suite.
Before you raise your hopes too high, let me start by saying that, despite the best efforts of editing tools, PDF remains a format primarily dedicated to rendering documents and has limited editing capability. If you are thinking of using an OpenOffice extension to edit the document in its original format, including templates, paragraphs, images, and tables, you will be disappointed. This limitation is not a failing of OpenOffice; it is inherent in the PDF format itself. If you need to send documents in an editable format, the Open Document Format (ODF, i.e., OpenOffice's native file format) is a better choice.
Despite this, the PDF Import function is a useful feature that lets users open PDF document content for editing, with some limitations. The extension adds a function for loading PDF files as easily as any other format to the free office suite.
[...]
Read full article as PDF »
comments powered by

Disqus
Visit Our Shop
Direct Download
Read full article as PDF »
Tag Cloud