Sneaking Linux into Windows
Portable QEMU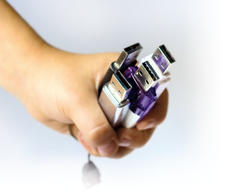 Carry a virtual Linux machine with you wherever you go.
Theoretically, a bootable USB stick with a Linux distribution lets you carry your Linux desktop with you without installing any software on the host machine. In practice, however, your Linux-on-a-stick might not be as universal as advertised. Sometimes you must ask the permission of the owner of the computer you are using, and many PC owners are reluctant to let their friends boot to a totally different operating system. In some cases, you might need to manually reconfigure the BIOS to support a USB boot. Many Internet cafes do not even let you reboot the system, so booting into Linux simply isn't an option.
An easy solution to this problem is a virtual machine based on the popular QEMU emulator [1]. With QEMU, you can install a Windows version of QEMU on a USB stick, create a Linux-based virtual machine, and run Linux as a virtual system inside Windows.
The excellent Qemu Manager [2] tool lets you turn your USB stick into a portable computing environment (Figure 1). Qemu Manager wraps the QEMU functionality into a sleek and user-friendly graphical interface that lets you create, manage, and run virtual machines with consummate ease. Installing Qemu Manager is as simple as downloading the zipped version of the tool, unpacking it in a folder on the USB stick, and double-clicking on the QemuManager.exe executable to launch Qemu Manager.
[...]
Read full article as PDF »
comments powered by

Disqus
Visit Our Shop
Direct Download
Read full article as PDF »
Tag Cloud