What's new in Python 3
The Next Snake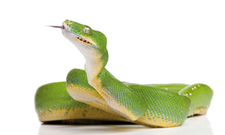 What do Python 2.x programmers need to know about Python 3?
With the latest major Python release, creator Guido van Rossum saw the opportunity to tidy up his famous scripting language. What is different about Python 3.0? In this article, I offer some highlights for Python programmers who are thinking about making the switch to 3.x.
The first important point is that version 3.0, which is also known as Python 3000 or Py3k, broke with an old tradition in that it is not downwardly compatible. According to von Rossum, "There is no requirement that Python 2.6 code will run unmodified on Python 3.0."
Python 2.6's main purpose is to take the pain out of switching versions. Many of Python 3.0's features were backported to Python 2.6. (A similar Python 2.7 version will accompany the recent Python 3.1 release.) In addition to these transitional 2.x versions, the 2to3 command-line tool supports programmers migrating code from Python 2.x to Python 3.x.
[...]
Comments
It is not named as snake, but you missed the point

The title of the article does not have anything to do with what inspired or not the creator of this language. The above comment just demonstrates the most ridiculous and basic lacking of any creativity or humor and denotes a very primitive and intolerant mind, which does not seem to even have noticed that the logo of Python is that of a SNAKE and not exactly a picture of Monty Python.

The article is very good.

Sadly, for some people it is easier to destroy and insult than to be creative and positive about anything.


Ancestor python

Yeah so what if it was not named after a snake. Monty Python's ancestors derived their surname from the python snake itself which was commonly found in their area where they originated from; so it's still from the snake. Heh heh!


Python is not named after a snake

It's hard to imagine how the author could get this so fundamentally wrong. Hear this: Python is not named after the snake; it's named after Monty Python, as any cursory survey of its history will reveal.
comments powered by

Disqus