Building a dedicated download system with rTorrent
Playing Fetch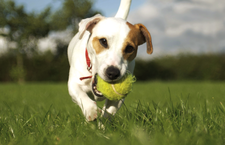 Your old computer might still be useful as a dedicated download box.
Before you throw away the old PC in your basement, you might be wondering whether you can find another use for it. An out-of-date computer that is too light for today's GUI universe still has value – if you can find the right job for it. I put my old PC to work as a BitTorrent-ready download slave that spends its cycles on fetching large files so my production systems can worry about other tasks.
All you need is a light Linux distribution that fits on your old computer, a torrent client, and a few other tools to control and manage the system.
Which Tools?
The computer I am using as my download slave (remote computer) is a Pentium 2 with a clock speed of 500MHz and 96MB of SDRAM. For the example in this article, I will use Debian Linux, but you can use any Linux distribution supported by the hardware.
[...]
Read full article as PDF »
comments powered by

Disqus
Visit Our Shop
Direct Download
Read full article as PDF »
Tag Cloud