Jolly Interesting Netbook Distro
Jolly Good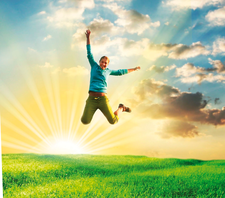 This alternative interface for netbooks ditches the desktop metaphor.
Many mainstream Linux distributions like Fedora, Ubuntu, and Mandriva provide support for popular netbook models. Consequently, they run on your little companion pretty much right out of the box. However, the desktop metaphor that works so well on conventional PCs and laptops doesn't translate very well to the netbook computer.
Why? Because netbooks are designed for radically different usage scenarios. Realizing that, developers have been trying to build an alternative interface that would provide quick access to key applications and let you operate your netbook with a minimum of effort.
The Easy Mode of the original Asus Eee PC 701 was a first attempt to replace the conventional desktop with a more efficient interface. The Ubuntu Netbook Remix (UNR) goes a step further and provides a sleek interface that fits perfectly with the netbook philosophy. In fact, the UNR interface works so well that you might wonder what else can be done to improve it. Quite a lot, actually, and the Jolicloud distribution [1] is set to prove that.
[...]
Comments
Bad UI choices on netbooks

I gotta say one thing that drives me nuts is by defaultsome Linux systems have extremely large control panel window boxes, it's pretty annoying when you go to reset the font size so you can fit more text on your network, but the "OK" or "Apply" button is off the screen since the UI Window is to large for a small netbook screen. A rethink of how to use that space is important because using my netbook seems overly painful at times.
comments powered by

Disqus