Issue #114 / May 2010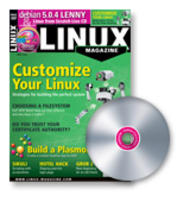 DVD: DEBIAN 5.0.4 LENNY & LINUX FROM SCRATCH LIVE CD
Debian 5.0.4 Lenny & Linux from Scratch LIVE CD
Debian GNU/ Linux, the greatest of the community distros, is known for stability and a huge repository of all-Free so......
Latest release! More than 70 updated packages Includes the latest security updates Access to more than 23,000 so......
Updated SUSE Appliance Toolkit for ISVs Astaro Command Center 2.1 Released What Is the Titan Framework? Get Mar......
A developer's guide to Plasmoids
We take a peek at how to create your own plasmoids for the latest KDE desktop, giving you the power to build the perfect active desktop environment.
The sys admin's daily grind: SpamAssassin 3.3
SpamAssassin is the backbone of countless anti-spam strategies. Its maintainers are cautious people and have just released the last major version since 2007. It's definitely worthwhile.
Impersonating secure web servers
Find out why you can't trust your web browser or certificate authorities.
Screenshots and more with Shutter
Take control of your screenshots with Shutter, which puts other screen
capture programs to shame.
Free software licensing
Maddog takes a look at how Free Software licensing works and why it matters.
Fosdem developer conference 2010 in Brussels
A friendly atmosphere during a geek interpretation of square dance; a free exchange of technical ideas; praise from veterans: Fosdem, the volunteer-organized conference in the heart of Europe, has many faces.
An up-to-date look at free software and its makers
Replace dictionaries and notepads with StarDict, the dictionary application, and RedNotebook, a combined notepad, diary, and calendar.
Visit Our Shop
Direct Download
Tag Cloud