Issue #118 / Sep 2010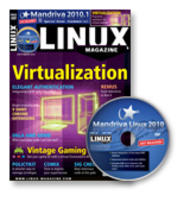 DVD: Mandriva 2010.1 & Slackware 13.1
Letter from the editor
Dear Linux Magazine Reader,
Great integration of the KDE desktop and improved system tools and utilities!...
Updates on technologies, tools, and trends
Exclusive interview with Red Hat's Ian Weller and an open source news roundup.
Double-sided DVD!
Mandriva is a versatile Linux with much to offer for both the home and corporate user. One of the oldest and best lov......
I don't mind too much that you rearranged things so I now have to search for the familiar. I suppose in time I will g......
The sys admin's daily grind: LUG Camp 2010 and Python
From the Lower Rhine to Central Franconia, on his journey, Charly found beaten gold, relaxed Linux users, abandoned beer cellars, and a Python one-liner for presentable photos of the tour. A once-in-a-year experience.
Signed, sealed, and delivered
How to avoid malicious code on Linux.
Manage Git repositories with a meta directory
How do you make sure the new laptop you just bought is populated with copies of all the Git repositories you use? Easy. By using a meta repository to maintain a list of projects and Perl scripts to automate discovery and cloning.
LINUXUSER: Comix
Reading and archiving comics in a digital format
The renaissance of comics, with their hand-rendered heroes, is thrilling millions at movie theaters and in print. The Comix reader gives you a convenient way to follow your favorite stories on your PC.
RedNotebook: A Trapper Keeper for Linux
RedNotebook for Linux helps you keep track of notes and thoughts.
Visit Our Shop
Direct Download
Tag Cloud