Issue #119 / Oct 2010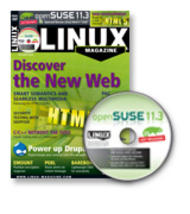 Double-sided DVD!
Great choice of desktops; improved support for netbooks; includes KDE 4.4.4, Gnome 2.30.1, and more!...
This month's news
Where you go, MeeGo Eclipse 4.0 SDK released MeeGo to become platform for Vehicle Infotainment Interview with C......
News: Tech Tools
Extend LabVIEW FPGA and C Series I/O with New Expansion Chassis from National Instruments SugarCRM Announces Suga......
Double-sided DVD
OpenSUSE 11.3 and Linux Mint join forces on our Double-sided DVD!
New Start: HTML5
Back in 1999 when the HTML 4.01 standard first appeared, virtually nobody envisioned video blogs, social networking sites, or Internet office tools. The upcoming HTML 5 standard will remake the web for the new generation of technologies and services.
Sysadmin's daily grind
Charly takes the name of the "My Traceroute" tool very literally. The journey is the reward for this alternative TTL-measuring utility.
Wireless security and Linux
If you are looking for a cheap and secure wireless router setup, check out Tomato, DD-WRT, or OpenWrt.
A first-hand look at the state of journalism, passing the Mom Test, and the LinuxCon 2010 battle of the Nerds vs. the Geeks.
Community Notebook
Maddog lets his need for control, stability, availability, speed, and resources guide his cloud service decisions.
KDE Akademy 2010 in Finland
Surrounded by majestic countryside, members of the KDE community met in Tampere, Finland. Sponsored by Intel and Nokia, this conference was all about the bright future of KDE and Qt.
Visit Our Shop
Direct Download
Tag Cloud