Issue #122 / Jan 2011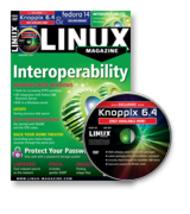 DVD: Knoppix 6.4 EXCLUSIVE! & Fedora 14
Exclusive!
9GB software, more than 3,000 packages Latest packages from future Debian "squeeze" Includes flash-kno......
Letter From the Editor
One of my memorable moments as a homeowner was looking out the window at a pair of neighborhood kids in my backyard, who were immersed in some sort of water fight. Never mind that my own kids weren't with them, or that they didn't have any kind of permission to be in my backyard – I'll save those topics for the child-rearing magazines. In this case, the fight itself was what I most remember.
Table of Contents
Interoperability
Double-Sided DVD
Knoppix 6.4: The popular Knoppix is the quintessential Live troubleshooting tool for admins, developers, and desktop Linux users.
Write Access
Linux Livelihood
Dear Rikki Kite: I picked up a copy of Linux Magazine the other day and read your most current, interesting article. Since you welcomed ideas for topics, I have a topic that never seems to be addressed.
COVER STORY: Caine
The Caine 2.0 forensic distribution
Caine is a Linux distribution based on Ubuntu 10.04 for forensic scientists and security-conscious administrators. Poised to do battle against IT ne'er-do-wells, Caine has a comprehensive selection of software, a user-friendly GUI, and responsive support.
The sys admin's daily grind: SPL
This is the ultimate programming language for decelerated feature page readers and the counterpart to agile software development: the Shakespeare Programming Language.
Avoid password fatigue with a password storage system
Keeping track of all your passwords can be tricky. Kurt says: Keep your friends close and your passwords closer.
maddog learns a lesson about deprecated formats but finds a workable solution.
Often I talk about documents and the importance of open formats, mostly oriented toward formats like the Open Document Format (ODF) standard versus Microsoft's OOXML specification.
2011 Predictions
Rikki asks the Magic 8 Ball (actually, her Facebook friends) what 2011 will bring. Also, updates on Gnome and CeBIT.
Visit Our Shop
Direct Download
Tag Cloud