Issue #134 / Jan 2012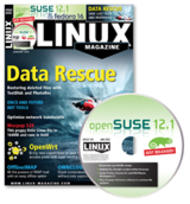 DVD: openSUSE 12.1 & Fedora 16
Issue #134
Fresh distros: The lastest releases from openSUSE and Fedora on a double-sided DVD....
Laptop … toothbrush … an extra sweater. A single spiral notebook, in which I am now writing. Three shirts … four pairs of socks … . Did I remember my cell phone charger?
With this month's DVD, you get to test the latest offerings from the openSUSE [1] and Fedora [2] projects
Commodore USA, makers of the venerable Commodore 64 on which some of us wrote our first computer programs in BASIC –......
The sys admin's daily grind: E-Log
If you've been forced to deliver Linux magazines to pay for your last electric bill, we'll help you discover why, assuming you have a state-of-the-art electricity meter.
Rescuing data from attackers
When attackers strike your system, you need to determine exactly what damage has been done. Here are some tools to help.
Build your personal cloud services
Own the Cloud: Set up your own personal cloud server with ownCloud.
One of the nice things about Free Software is that it can take you to some very nice places. Recently, it took me to Prague, Czech Republic, where I attended several Linux Foundation events (the Kernel Summit, Embedded Linux Conference, and LinuxCon Europe).
Chronicler Zack Brown reports on the latest news, views, dilemmas, and developments within the Linux kernel community.
Are you ready to assess your assets and limit your liabilities? Or maybe you just want to find out where your money goes. This month we look at Grisbi, GnuCash, and HomeBank finance managers.
Visit Our Shop
Direct Download
Tag Cloud