Issue #138 / May 2012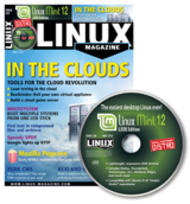 DVD: Linux Mint 12
Issue #138
This month's CD comes with the Linux Mint 12 "Lisa" LXDE edition....
Editorial
"Making revolution is not a crime!" This catchy turn of phrase is often attributed to Jian Qing, otherwise known as Madame Mao, otherwise known as one of the notorious Gang of Four – the group of former Chinese leaders who stood trial in 1980 for launching the devastating and discredited Cultural Revolution in China.
In the Clouds
...
This month's CD comes with the Linux Mint 12 "Lisa" LXDE edition.
TeamDrive 3.0 Released for Android and iOS
JetBrains Releases TeamCity 7.0
AMD Announces Radeon HD 7870 and 7850
Altair Launches New HPC Tools
GFI Releases WebMonitor 2012
Kexi and Glom – lean database tools compared
Kexi and Glom aim to create databases with little overhead. We compare the power of these two tools.
The sys admin's daily grind: Charly's weather report page
To find out what the weather is like, sys admin columnist Charly Kühnast no longer needs to go outdoors get wet, blown away, frozen to death, or sunburned.
Tools for auditing and securing cloud systems
Tools like OpenSCAP and Aqueduct can make life much easier when implementing cloud security standards.
Community Notebook
Designing computers for everyone: maddog considers some computer accessibility issues.
Disposition of Binary-Only Modules; Seeking kernel.org Features; Remounting Oddities; PohmelFS Rewritten from Scratch; Device Isolation Groups
Chronicler Zack Brown reports on the latest news, views, dilemmas, and developments within the Linux kernel community.
Visit Our Shop
Direct Download
Tag Cloud