Issue #141 / Aug 2012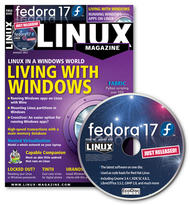 DVD: Fedora 17
Humanoid Linux robot Nao thrills developers in Paris
At the end of April, Aldebaran Robotics let their 57cm-long humanoid Nao robots loose on a human audience of mostly open source developers. The robots possess 25 degrees of freedom, a child's gaze, and anthropomorphic interactions.
Stitching together a crazy sys admin world with Python
The Fabric Python library makes it extremely easy to create repeatable scripts of commands over SSH to any number of servers.
An installation server with extras
The virtualization breakthrough has not reduced the number and diversity of operating systems that admins must install and manage. Uranos server sets out to give administrators of complex operating system zoos more freedom.
The sys admin's daily grind: QPS
The graphical tool QPS frees admins from Kafkaesque ambiguities about the cause, history, and side effects of running processes. Depending on the view, either clarity or detailed information dominate the scene.
Klaus Knopper answers your Linux questions
Klaus Knopper is the creator of Knoppix and co-founder of LinuxTag expo. He currently works as a teacher, programmer, and consultant. If you have a configuration problem, or if you just want to learn more about how Linux works, send your questions to: klaus@linux-magazine.com
A life of privilege
Granting root access, even temporarily, is rife with danger. Capabilities could help.
Main memory database systems
Thanks to powerful hardware, in-memory databases run without accessing mass memory devices, which means they handle transactions and evaluations at high speed, introducing a paradigm shift in the database market.
A private cloud with high availability and storage on the laptop
Nesting of hypervisors, known as a nested virtualization, makes it possible to set up a complete virtualization scenario with a data center, storage, and high-availability functions on a laptop. In this article, we show you how, with Linux iSCSI and free VMware trial versions.
Using Clonezilla and Perl scripts for backups
Clonezilla makes backing up and restoring your system an easy affair that only involves a few key strokes. A homegrown solution reduces the time and effort to the act of slotting in a CD, on which you previously burned a Perl script.
Burning with wodim
Wodim works behind the scenes in popular CD/ DVD-burning software, but it's even more powerful at the command line.
Visit Our Shop
Direct Download
Tag Cloud