Issue #146 / Jan 2013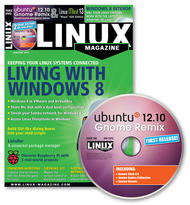 DVD: Ubuntu 12.10 Gnome Remix & Linux Mint 13 "Maya" KDE Edition
Issue #146
Gnome Ubuntu Remix 12.10 and Linux Mint 13 KDE Canonical's persistent efforts to perfect the new age Unity ......
Editorial
Let's see. I need to write something for the Welcome column. I guess eventually it might get posted online, which means I'm writing something for the new web.
What's inside the January 2012 issue
Getting Linux and Windows 8 to work together requires just a little know-how. We help you get started.
This month's DVD
Canonical's persistent efforts to perfect the new age Unity desktop for Ubuntu Linux has gotten them in trouble with lots of long-term users, but the Ubuntu project is always quick to point out to the critics: "This is Linux. If you don't like the desktop, change it!"
Linux Foundation reports Secure Boot solution
Ubuntu 12.10
Plasma Active 3
Android OS Tops
Linaro Enterprise
Group formed for ARM architecture
Android installed on 3 of 4 smartphones
Community Edition of ownCloud Released
Phusion Releases Passenger Enterprise 4
VMware Announces Micro Cloud Foundry Changes
Windows 8 with VMware and VirtualBox
How does the latest Windows work in a virtual machine? We tried out Windows 8 as a guest system in vMware Workstation and virtualBox on Linux.
Using Linux filesystems on Windows 8
For years, Windows has stubbornly refused to support any filesystems apart from its own, but with a few tricks, you can make your Windows systems talk to the Linux ext filesystem.
Windows 8 and Linux on the network
Samba configuration often fails when users overlook little things. We show you how to configure a Linux system for file sharing on a Windows 8 peer-to-peer network.
Windows 8 and Linux in dual-boot mode
Although getting Windows to play nice with an existing Linux installation is difficult, with a few tricks, you can set up Windows 8 to dual-boot with Linux.
Visit Our Shop
Direct Download
Tag Cloud