Issue #146 / Jan 2013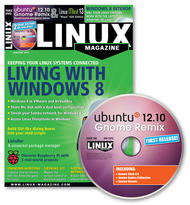 DVD: Ubuntu 12.10 Gnome Remix & Linux Mint 13 "Maya" KDE Edition
The Unknown Horizons strategy game
Colonizing new territory, processing raw materials, and trading goods are ingredients for popular strategy games. This genre is served on Linux by the free Unknown Horizons project.
Advanced file management
Once you've mastered the everyday commands for manipulating files, you might want to do more. We show you some powerful commands for advanced file management.
Raspberry Pi server tools and applications
With the help of the applications we describe, Raspberry Pi can perform a wide range of server duties.
FOSS on the front lines of business
Start-ups, resource-poor enterprises, and nimble organizations turn to Free and Open Source Software to help solve their business problems.
Zack's Kernel News
Chronicler Zack Brown reports on the latest news, views, dilemmas, and developments within the Linux kernel community.
Abstracting the network with SDNs
Even as the tech world works to figure out just what to do with the potential of cloud computing and big data, along comes a new bit of technology fueled by open source software: software-defined networks.
Visit Our Shop
Direct Download
Tag Cloud