Issue #149 / Apr 2013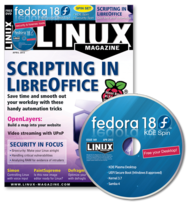 DVD: Fedora 18 Spin Set
Issue #149
Fedora 18 Spin SetFedora's spins are special versions of Fedora designed to highlight special features and tools. The......
Editorial
A closed-source code base is a huge, ever-fading inertial mass. When it begins, with those first exhilarating lines, or even up through the first few releases, you can truly say that you are writing it. But after a while, it is more like you are tending it – or feeding it. It becomes an investment, an asset, a castle you are protecting, which means all your strategies are defensive and your dreams will not stray far from your spot of holy ground.
What's inside the April 2013 issue
This month, we show you how to automate tasks in LibreOffice and give you some tools to tighten system security.
Anonymous Active
Anonymous hacktivists launch Operation Last Resort
KDE 4.10 released
News Bites
Dell Goes Private
Dell to buy back stock
Fedora 18 released
LibreOffice 4.0 out
RaspPi Camera
Tech Employment
Tech unemployment less than half national average
Linux Foundation UEFI fix
Google Releases C++ B-Tree Template Library
Unmetered.com
Oracle Releases MySQL 5.6
Eclipse Releases Hudson 3.0
This month's DVD
Fedora's spins are special versions of Fedora designed to highlight special features and tools. The spin system lets the Fedora community put out several different versions of Fedora tailored to specific tasks. This month's DVD includes a pair of the most popular Fedora spins:
Automating Libreoffice with macros
in addition to its comprehensive tool set, Libreoffice packs a built-in Basic-like scripting language that can be used to automate repetitive tasks and extend the suite's default functionality.
Airtight system security with Grsecurity
Security-conscious people dig a deep moat with crocodiles around their homes, hide their furniture in back rooms, and only let visitors into the bathroom if they know the secret password. Grsecurity follows a similarly extreme principle.
Handling critical security vulnerabilities: Three incidents
We look at what makes a security issue critical and how upstream developers and vendors respond by examining three incidents: CVE-2013-0156, CVE-2013-0333, and rubygems.org. incident response handling.
Forensic analysis of memory on Linux
In computer forensics, memory analysis is becoming increasingly important as a means for investigating security incidents. In this article, we provide an overview of the various memory dumping options on Linux and introduce the support in Linux for the Volatility Analysis Framework.
Visit Our Shop
Direct Download
Tag Cloud