Four Pomodoro tools tested
Catch Up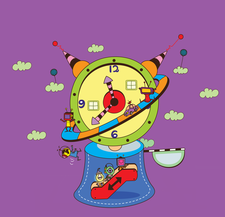 The simple Pomodoro technique seeks to improve time management skills and make inroads into Agile programming. We look at four tools that can help your concentration.
Whether you're at work, in the library, or in your home office – distractions are numerous, and many users have difficulty concentrating on completing their tasks. This problem is aggravated by the fact that complex projects can overwhelm people, leaving them stumped. Projects such as "I'm going to write my thesis" or "I'll debug my compiler this evening" quickly collapse in the face of procrastination. Enter the Pomodoro technique [1], which has helped people focus since the 1980s.
To begin, the user needs to consider exactly what the problem is, then divide it into smaller chunks. The idea is to be able to process each step in a maximum of 25 minutes. The inventor of the technology, Francesco Cirillo, emphasizes that no special tools are necessary for this. Besides pen and paper, he only used one tomato-shaped egg timer, which explains the name of the technique (pomodoro = tomato). Once the timer starts, the user needs to block out any distractions for 25 minutes. Once the task has been completed, you can cross it off the list. Each Pomodoro phase is followed by a short five-minute break, during which users can recharge their creative energies. After four Pomodori (i.e., every two hours), you earn an extended break (15 minutes).
One important aspect is that users learn to protect themselves against external distractions. If they wander off or the phone rings, they make a note of these interruptions and record them for later processing. Another successful part of the learning process is that users become increasingly adept at assessing the time required for a subtask. Anyone facing a mountain of work will benefit from defining achievable milestones. This approach is also used in Scrum [2] and Agile programming [3]; thus, it is not surprising that Pomodoro tools for the desktop or smartphone seek to replace the simple kitchen timer – even if the ticking of the clock helps your concentration, according to the inventor.
[...]
Use Express-Checkout link below to read the full article (PDF).
comments powered by

Disqus
Visit Our Shop
Direct Download
Read full article as PDF: