Measuring the Alcatel One Touch Fire Firefox OS phone against a comparable Android device
Fox Chase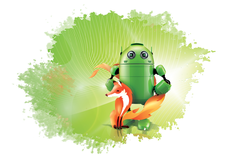 Firefox OS has come out of nowhere to challenge Android and iOS in the mobile operating system market. We'll show you what is different about Firefox OS and compare a recent Firefox OS phone with a comparable Android device.
Since the rise of web browsers and Internet technology, experts have predicted that a day will come when the browser emerges as a universal computer application – and everything you need to do on the computer happens in a browser window. The rise of cloud-based office suites, webmail, and social networking all seem to point to this inevitable victory of the browser, and the HTML5 standard [1] gives new capabilities to developers who want to leverage the powers of web.
Strangely enough, this futuristic vision of the universal web interface has not worked so well for the futuristic world of mobile computing. Although HTML5 web applications are out in the world right now running on mobile devices, the fact is, Android and iOS, and other platforms such as Windows Phone, maintain strict control over the development environment, and it does not suit the interests of corporations like Google and Apple to treat the mobile OS as a free and open place. If anyone is to invest in bringing the OS-as-browser vision to the mobile arena, it would have to be a non-profit with a preference for standards, an interest in fostering web technology, and enough resources to take on a really huge project.
The one organization with the power to challenge the tech giants by bringing out a browser-based mobile operating system is the Mozilla Foundation [2]. Mozilla has been all about the web from the very beginning. The foundation was created as a home base for the Mozilla browser, which needed a landing place when AOL defunded the open browser project it inherited from Netscape. Mozilla scored a big hit with the Firefox browser, which is now used on Linux, Windows, and Mac systems around the world. We all know that Firefox is profitable, but many don't realize that Firefox is also quite lucrative. According to some reports, Mozilla gets as much as US$ 300 million per year from Google for making Google the default Firefox search engine. You might be wondering what the Mozilla Foundation does with all that money. As a non-profit, Mozilla has no shareholders looking for dividends; nor are they particularly concerned with building empires or conquering the world as a for-profit corporation would be. Like most non-profits, Mozilla follows its own stated mission, which is to "…promote openness, innovation, and opportunity on the Web [3]." Mozilla thus has both the resources and the motivation to take on the big mobile OS vendors, who so far have downplayed the powers of HTM5 in favor of closed (and more easily controlled) platform-specific APIs.
[...]
Use Express-Checkout link below to read the full article (PDF).
comments powered by

Disqus
Visit Our Shop
Direct Download
Read full article as PDF: