Pervasive vulnerabilities in SOHO routers
SO HOpelessly Broken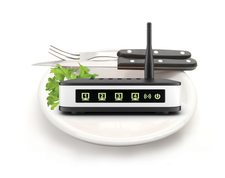 Home and small office networks typically place their security in the hands of an inexpensive device that serves as a router, DHCP server, firewall, and wireless hotspot. How secure are these SOHO router devices? We're glad you asked …
Small office/home office (SOHO) routers are a staple networking appliance for millions of consumers. SOHO routers are often the single point of ingress and egress from a SOHO network, managing domain name resolution, firewall protection, dynamic addressing, wireless connectivity, and, of course, routing. The heavy use of SOHO routers in the consumer market, as well as the targeted demographic of non-computer-savvy users, has not surprisingly led to some very easy-to-use turnkey solutions.
The list of known vulnerabilities for SOHO routing devices is long (Figure 1), and our research revealed 56 previously undisclosed security vulnerabilities in SOHO devices. The alarming quantity of these security problems demonstrate how the rich service and feature sets (e.g., SMB, NetBIOS, HTTP(S), FTP, UPnP, and Telnet) implemented in these routers comes at a significant cost to security. All the extraneous services running within these SOHO routers expose attack surfaces that a malicious adversary can leverage to compromise the router core and gain a foothold in the victim network.
Once compromised, any router – SOHO or otherwise – may be used by an adversary to secure a man-in-the-middle position for launching more sophisticated attacks against all users in the router's domain. The attacks could include sniffing and rerouting all network traffic, poisoning DNS resolvers, performing denial of service attacks, or impersonating servers. Worse still is that these routers are also firewalls and often represent the first and last line of defense for protecting the local network. Once compromised, the adversary has unfettered access to exploit the vulnerabilities of local area hosts that would be otherwise unreachable if the router were enforcing firewall rules as intended.
[...]
Use Express-Checkout link below to read the full article (PDF).
comments powered by

Disqus
Visit Our Shop
Direct Download
Read full article as PDF: