Converting font formats
Quick Change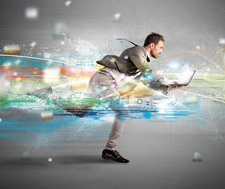 Perform trouble-free font conversions from the command line with an easy-to-use script.
Ordinarily, few users have to concern themselves with converting file formats for fonts. However, with LibreOffice 5.3 dropping support for Type 1 fonts [1], conversion becomes relevant, especially if other Linux applications do the same. Users are suddenly faced with either finding a solution or losing altogether fonts collected over years, some of which may be irreplaceable if they are from small font designers. Moreover, if support for Type 1 fonts is dropped, in a few years TrueType fonts may also be dropped in favor of OpenType fonts. Fortunately, a number of solutions are available, including a batch script in FontForge [2], a free software font creation tool included in most distributions.
Type 1 fonts (.pfb), also known as PostScript fonts, were first released in 1985. As might be expected with such an old format, they include some major limitations. Information in Type 1 fonts is contained in several files (.pfb, .afm, and, on Windows, .pfm), and older Type 1 fonts are short of accents and other diacritical marks. Moreover, glyphs (characters) are divided into one-thousandths – less than half of the highest-quality TrueType fonts – and are less efficient than TrueType at hinting or rasterizing. All the same, Type 1 fonts are superior to even older font formats and remain good enough for professional uses.
In theory, TrueType fonts, which were introduced a few years after Type 1 fonts, allow more detail. However, in the early 1990s, hastily created TrueType fonts gave the format a bad reputation, causing many designers at the time to avoid it. As a result, small font foundries often chose to use Type 1, which means that many rare fonts are unavailable in TrueType, a fact that has helped to keep the format alive.
[...]
Use Express-Checkout link below to read the full article (PDF).
comments powered by

Disqus
Visit Our Shop
Direct Download
Read full article as PDF:
News
Both projects help organizations build their own containerized systems.

Mark Shuttleworth has resumed the position of CEO of Canonical.

Microsoft's open source code hosting platform CodePlex will come to an end after a more than 10-year stint.

Comes with Gnome 3.24

The bug was introduced back in 2009 and has been lurking around all this time.

The new release deprecates the sshd_config UsePrivilegeSeparation option.

Lives on as a community project

Five new systems join Dell XPS 13 Developer Edition that come with Ubuntu pre-installed.

The Skype Linux client now has almost the same capabilities that it enjoys on other platforms.

At CeBIT 2017, OpenStack Day will offer a wide range of lectures and discussions.