Converting font formats
Quick Change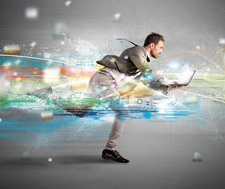 Perform trouble-free font conversions from the command line with an easy-to-use script.
Ordinarily, few users have to concern themselves with converting file formats for fonts. However, with LibreOffice 5.3 dropping support for Type 1 fonts [1], conversion becomes relevant, especially if other Linux applications do the same. Users are suddenly faced with either finding a solution or losing altogether fonts collected over years, some of which may be irreplaceable if they are from small font designers. Moreover, if support for Type 1 fonts is dropped, in a few years TrueType fonts may also be dropped in favor of OpenType fonts. Fortunately, a number of solutions are available, including a batch script in FontForge [2], a free software font creation tool included in most distributions.
Type 1 fonts (.pfb), also known as PostScript fonts, were first released in 1985. As might be expected with such an old format, they include some major limitations. Information in Type 1 fonts is contained in several files (.pfb, .afm, and, on Windows, .pfm), and older Type 1 fonts are short of accents and other diacritical marks. Moreover, glyphs (characters) are divided into one-thousandths – less than half of the highest-quality TrueType fonts – and are less efficient than TrueType at hinting or rasterizing. All the same, Type 1 fonts are superior to even older font formats and remain good enough for professional uses.
In theory, TrueType fonts, which were introduced a few years after Type 1 fonts, allow more detail. However, in the early 1990s, hastily created TrueType fonts gave the format a bad reputation, causing many designers at the time to avoid it. As a result, small font foundries often chose to use Type 1, which means that many rare fonts are unavailable in TrueType, a fact that has helped to keep the format alive.
[...]
Use Express-Checkout link below to read the full article (PDF).
comments powered by

Disqus
Visit Our Shop
Direct Download
Read full article as PDF: