Customizing the UEFI boot process
Smart Startup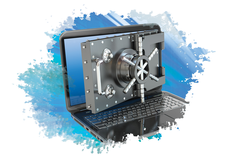 The traditional BIOS dates back decades and has not been able to keep up with the rapid development of PCs and laptops. Its powerful successor UEFI takes over its tasks and provides more features, more convenience, and better security.
Since 1981, PCs have booted with the help of the Basic Input/Output System (BIOS). Over the years, different manufacturers have continued to expand the BIOS firmware system, but even after all this time, the BIOS system is difficult to adjust and still does not support 64-bit operation.
Back in the late 1992, Intel launched a new initiative to replace the venerable BIOS system with a 64-bit alternative. This Extensible Firmware Interface (EFI) initiative became the Unified EFI (UEFI) Forum in 2005. In addition to Intel, AMD, Microsoft, HP, and other prominent vendors contributed to the UEFI project.
UEFI describes the interface between a computer's firmware and operating system. Like BIOS, the UEFI implementation initializes the hardware components to prepare the launch of the operating system. However, UEFI natively supports 64-bit architectures, enables graphical user interfaces, and can protect against malicious software by only allowing signed operating systems (a feature that has come to be known as Secure Boot).
[...]
Use Express-Checkout link below to read the full article (PDF).
comments powered by

Disqus
Visit Our Shop
Direct Download
Read full article as PDF: