EncryptPad is a handy text editor with encryption
Secure Writer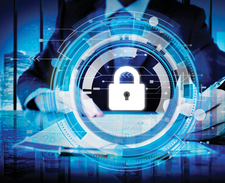 EncryptPad provides symmetric text encryption directly from the editor. You can also use EncryptPad to encrypt binary data.
EncryptPad [1] is a text editor with an encryption function. If you have a file with sensitive information, such as passwords and account names, you can use EncryptPad to edit and maintain the file, all the while ensuring that the file remains encrypted. EncryptPad also provides a data integrity feature through the SHA-1 hashing algorithm, so if you receive a file from someone else, you can ensure that it hasn't been altered in transmission. EncryptPad even protects you from a brute force attack by letting you safeguard the encrypted information with both a key and a passphrase. Store the key separately; if the USB stick with the encrypted information falls into the wrong hands, the thief won't have access the to data just by guessing the password.
In contrast to other common encryption tools, EncryptPad uses symmetric (rather than asymmetric) encryption. You use the same key to encrypt and decrypt the file. If you are sending the encrypted file to someone else, you need to provide the passphrase and/or key file to the other user separately.
EncryptPad, which has been on GitHub for about three years [2], is still at the beta stage; the current version at this time of writing is 0.4.0.4. The software is available for Linux, Mac OS X, and Windows. EncryptPad relies on OpenPGP [3] [4], and it uses the AES 256 symmetric encryption standard [5]. Some of the functionality of EncryptPad is similar to the gnupg.vim extension for the Vim editor.
[...]
Use Express-Checkout link below to read the full article (PDF).
comments powered by

Disqus
Visit Our Shop
Direct Download
Read full article as PDF: