Keyboardio's graphical interface
Open Hardware – Chrysalis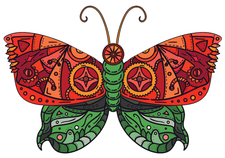 Chrysalis, the graphical interface for Keyboardio's Model 01, offers an easy way to customize open hardware keyboards.
By definition, open hardware requires open source software. However, the software is often overlooked, because the hardware is more tangible. Yet the software being written for open hardware often leads to new results and industry standards – everything from utilities for securing mobile devices to applications for prosthetics. A case in point is Chrysalis [1], the graphical interface for the Model 01 keyboard from Keyboardio [2]. Recently, I talked to Gergely Nagy (aka Algernon), the contractor who is the lead developer for Chrysalis, about the history of the project and where its development is heading.
Keyboardio is a small company that began shipping its stylish, ergonomic, and programmable keyboards in November 2017. It has shipped thousands of Model 01 keyboards, each powered by an Arduino ATmega3244 microcontroller. The advantage of using an Arduino is that the Arduino IDE includes a feature for flashing the firmware, which allows for both programmable keys and layers or multiple keyboard layouts that can by swapped in and out in one or two keystrokes. In fact, the Model 01 supports up to 32 layers. Flashing the firmware makes all this customization possible.
The Arduino IDE is easy to use if you have programming experience. However, for ordinary users, as Nagy points out, "Flashing can be very scary, for a multitude of reasons, and you need special tools for it, often with arcane incantations to make them do what you need them to do. And programming keyboards? Eeeh, not friendly at all. For the average person, who just wants to rearrange their layout, having to install Arduino and edit source code is well past their comfort zone. Some are willing to go there and end up enjoying it, [but] many are not" (Figure 1).
[...]
Use Express-Checkout link below to read the full article (PDF).
comments powered by

Disqus
Visit Our Shop
Direct Download
Read full article as PDF: