Tips from the experts on getting more from Git
Git Tricks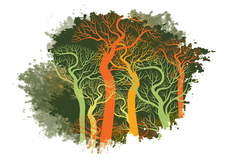 The Git distributed version control system is a popular tool for managing open source development projects. If you know the basics of Git but are looking to learn the ways of the experts, read on for some useful Git tips and tricks.
"You must know a few Git experts," an editor at Linux Magazine said to me. As the leader of the SUSE documentation team, I spend large portions of my day around veteran Linux developers. When I agreed to ask the team for some tips for using the Git version control system [1], I did not expect that I would trigger a thread that lasted several days (Figure 1).
The number and quality of the tips shows just how important Git is to SUSE developers. This article rounds up some of my favorite tips. If the tricks mentioned here are not enough for you, you will find many more online – aimed at beginners and connoisseurs alike. Check out the DZone site for a summary of useful Git commands [2]. The Fedora team has also assembled their own list of "pro tips" for Git developers [3]. And don't forget the Git cheat sheet for an at-a-glance view of some important Git commands [4].
At SUSE, the developers aren't the only ones who depend on Git. The documentation team uses Git every day, including the gitflow workflow feature, which we use for managing documentation projects [5]. The Trello board shown in Figure 2 is used for tracking internal documentation of version-management tips and tricks. Over the years, countless short how-tos have accumulated, ranging from entry level to highly sophisticated solutions. The first five tips in this article – submitted by technical editor Thomas Schraitle – come from this pool.
[...]
Use Express-Checkout link below to read the full article (PDF).
comments powered by

Disqus
Visit Our Shop
Direct Download
Read full article as PDF: