Create snapshots with Timeshift
Time Jumping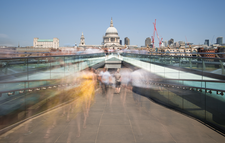 Timeshift lets users easily create, manage, and restore system snapshots.
Ideally, you should design a data preservation strategy in such a way that you only have to think about it once. A system snapshot is a popular component of the backup strategy for many organizations.
A snapshot copies the system state at a moment in time. Snapshots are very fast, so they don't tie up the system for long, but experts warn that a snapshot does not replace the need for a backup. Snapshots depend on pointers and other properties of the filesystem to preserve the system state, but if the underlying filesystem is damaged, you won't be able to restore the snapshot.
For many scenarios, however, a snapshot is a fast and easy way to bring the system back. If you make a change to your configuration or install a new driver and the system ceases to function, you can restore it to a previous state with a snapshot. Linux has several tools for creating system snapshots, including the uncomplicated Timeshift [1], as well as the command-line-only solutions CYA [2] and Snapper [3]. You can think of these Linux tools as similar to System Restore on Windows and Time Machine on macOS.
[...]
Use Express-Checkout link below to read the full article (PDF).
comments powered by

Disqus
Visit Our Shop
Direct Download
Read full article as PDF: