Butterfly: Terminal in A Browser

Productivity Sauce
Mar 27, 2014 GMT
A terminal and a browser are the most important tools of any Linux user. And Butterfly allows you to combine both. This clever solution lets you use a browser as a terminal, so you don't have to constantly switch between the browser and the terminal. Butterfly is written in Python, and the utility can be deployed in a matter of minutes. Run the pip install butterfly command as root (to use pip, you need to install the python-pip package first). Launch the server using the butterfly.server.py command, and you can then access the terminal by pointing your browser to http://127.0.0.1:57575. If you want to log in to the shell as a different user, you can do so by appending its name to the URL. For example, to log in as root, use the following URL: 127.0.0.1:57575/user/root. You can also allow other users to connect to the terminal on the machine running Butterfly by starting the server with the --host parameter as follows: butterfly.server.py --host="0.0.0.0". Keep in mind, though, that this approach is not secure.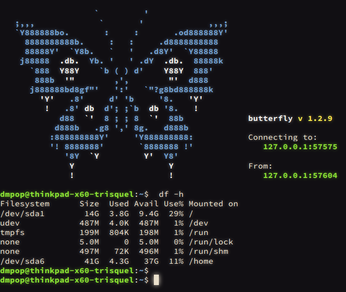 Butterfly has another clever trick up its sleeve: quick history text selection. Using the Ctrl+Shift+Up Arrow keyboard shortcut you can switch to the selection mode and then use the Ctrl+Shift+Up Arrow and Ctrl+Shift+Down Arrow shortcuts to select the text you want. Press Enter to paste the selected text to the prompt.
comments powered by

Disqus

Issue 198/2017
Buy this issue as a PDF
Digital Issue: Price $9.99

(incl. VAT)
News
Both projects help organizations build their own containerized systems.

Mark Shuttleworth has resumed the position of CEO of Canonical.

Microsoft's open source code hosting platform CodePlex will come to an end after a more than 10-year stint.

Comes with Gnome 3.24

The bug was introduced back in 2009 and has been lurking around all this time.

The new release deprecates the sshd_config UsePrivilegeSeparation option.

Lives on as a community project

Five new systems join Dell XPS 13 Developer Edition that come with Ubuntu pre-installed.

The Skype Linux client now has almost the same capabilities that it enjoys on other platforms.

At CeBIT 2017, OpenStack Day will offer a wide range of lectures and discussions.