Play 2048 in the Terminal with Bash 2048

Productivity Sauce
Mar 28, 2014 GMT
The 2048 game is as addictive as it is simple. Use the arrow keys to move tiles. When two tiles with the same number collide, they merge into a tile with the total value of the two collided tiles. For example, when two 32 tiles collide, they merge into a 64 tile. The purpose of the game is to reach the 2048 tile. It might sound simple, but it's far from it. Depending on your skills, a typical game takes 5-10 minutes to play, which makes it a perfect diversion for short breaks during the day.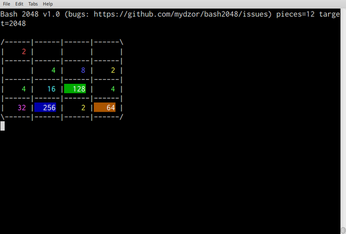 To play the original game, you need a browser and an Internet connection. But if you want to play 2048 offline from the convenience of the command line, you'll appreciate the Bash shell implementation of the game. Clone the project's GitHub repository with the git clone https://github.com/mydzor/bash2048.git command, switch to the bash2048 directory in the terminal, and run the bash2048.sh script.
comments powered by

Disqus

Issue 37: Discover LibreOffice – 2019 Edition/Special Editions
Buy this issue as a PDF
Digital Issue: Price $15.99

(incl. VAT)
News
Anyone looking to finally get their hands on an early release of the PinePhone can do so as of November 15.

Microsoft is bringing it's new Chromium-based Edge browser to Linux.

OIN has deployed its legal team to find prior art.

The latest version of Fedora comes with new packages and libraries.

openSUSE enables developers to build their own WSL distributions.

A vulnerability in the sudo package gives sudo users more powers than they deserve.

The Art of PostgreSQL by Dimitri Fontaine is now available.

New distro will provide an upstream test bed for RHEL.

The feature will let developers restrict root access to the kernel.