Play 2048 in the Terminal with Bash 2048

Productivity Sauce
Mar 28, 2014 GMT
The 2048 game is as addictive as it is simple. Use the arrow keys to move tiles. When two tiles with the same number collide, they merge into a tile with the total value of the two collided tiles. For example, when two 32 tiles collide, they merge into a 64 tile. The purpose of the game is to reach the 2048 tile. It might sound simple, but it's far from it. Depending on your skills, a typical game takes 5-10 minutes to play, which makes it a perfect diversion for short breaks during the day.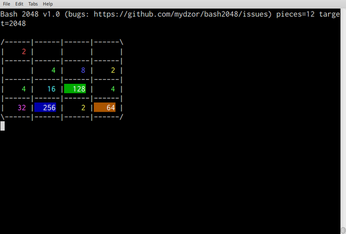 To play the original game, you need a browser and an Internet connection. But if you want to play 2048 offline from the convenience of the command line, you'll appreciate the Bash shell implementation of the game. Clone the project's GitHub repository with the git clone https://github.com/mydzor/bash2048.git command, switch to the bash2048 directory in the terminal, and run the bash2048.sh script.
comments powered by

Disqus

Issue 198/2017
Buy this issue as a PDF
Digital Issue: Price $9.99

(incl. VAT)
News
Both projects help organizations build their own containerized systems.

Mark Shuttleworth has resumed the position of CEO of Canonical.

Microsoft's open source code hosting platform CodePlex will come to an end after a more than 10-year stint.

Comes with Gnome 3.24

The bug was introduced back in 2009 and has been lurking around all this time.

The new release deprecates the sshd_config UsePrivilegeSeparation option.

Lives on as a community project

Five new systems join Dell XPS 13 Developer Edition that come with Ubuntu pre-installed.

The Skype Linux client now has almost the same capabilities that it enjoys on other platforms.

At CeBIT 2017, OpenStack Day will offer a wide range of lectures and discussions.