2D Animation Tools
Simply Moving
By
With the right tool and a bit of artistic talent, you can create two-dimensional cartoons, even without Flash. In this article, we present four animation programs and look at how well they perform in practice.
Despite blockbusters such as Toy Story and Shrek, conventional cartoons still have countless fans, with growing audiences for budding cartoonists and animation hobbyists. In the analog age, the artist had to take up a pencil and draw an entire picture over and over for succeeding frames.
Flip books functioned according to the same scheme: One second of story required 30 hand-drawn images. Even if the protagonist only moved a hand, the cartoonist had to conjure up the image on paper a number of times to achieve smooth animation. In the digital age, it's a lot easier to accomplish.
KTooN
In 2002, two Colombians decided to facilitate their daily work as animators with the help of open source software, and KTooN was born. Sponsored by public institutions, development continued until 2006.
In 2009, with no new donors in sight, the initiators put the project on ice, then redesigned the software for a new stable release that appeared in 2010. Since then, however, the project again seems to have fallen into a deep slumber: During the past three years, the makers have neither published new code nor updated the project homepage.
KTooN is often not included in the official package repositories of new versions of various distributions; however, the source code is available on SourceForge as well as the project website. When you finally start the program, you will notice two bugs: The Tip of the day first displayed on startup remains blank (Figure 1), as do the Tooltips.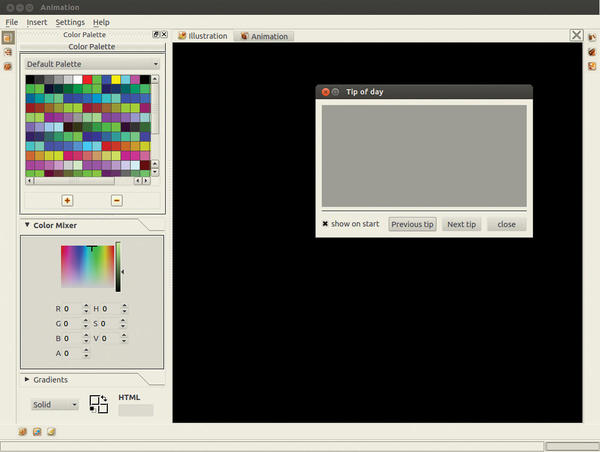 Figure 1: In place of a daily tip, KTooN displays a blank window.
On their homepage, the developers provide a quick reference guide, as well as a mini-tutorial, both of which, however, are obviously not up to date. Only fragments of the quick reference guide are in English; the essential part that describes the structure and the components of the program was never translated from the original Spanish.
Fortunately, the basics of the software are easy to discover with a little bit of experimentation on your own, although an intuitive and time-saving introduction would be more user friendly. In general, you should regularly save your project because the software often closes without warning.
An animation in KTooN is created in several small steps. A simple project might consist of a path drawn by the user, along which an object will later move. After the path is defined, an object is drawn anew for each frame to illustrate how it changes along the course of the path.
This hard work cannot be avoided because the program is not capable of tweening (see the "Tweening" box). Finally, the completed animation is saved in various video formats.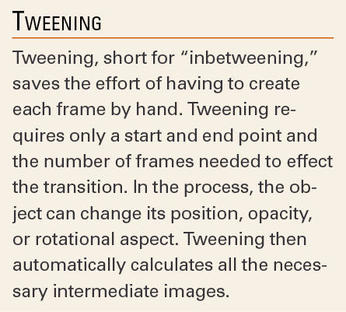 KTooN includes illustration and animation modules. In the illustration module, you can draw individual frames as in any other vector graphics program; the illustration module starts the rendering process for the previously drafted film. Objects that you want to use again later are saved in a separate "Objects Library." A further module imports photos and helps generate simple stop-motion movies.
Although KTooN was developed by experts in the field, it is not convincing, starting with the fragmentary documentation, which is either not translated or no longer applicable, and continuing with the hardly helpful help system, which proves to be just as flawed as other parts of the program.
Tupi
A former co-developer of KTooN started a fork of the project in 2010, which continues to be developed independently under the name Tupi. Because of dissatisfaction with the obviously stalled KTooN project, the new development went down a whole new path, meaning that even if KTooN should be revived, the Tupi developers intend to stick to their own roadmap and goals.
For Ubuntu users, unofficial installation packages are available on Launchpad.net. Alternatively, you can compile the source code itself; it is no coincidence that the instructions are similar to those of the original project. Even though the programmers intend to go an independent direction with their software development, Tupi cannot deny its ancestral KTooN lineage.
Whether considering the structure of the homepage, the operation of the program, or the content of the manual, everything about Tupi seems familiar. Fortunately, it is also obvious that two years of additional development have been invested in the project. Apart from rare program crashes, the typical KTooN errors did not occur in the Tupi test (Figure 2).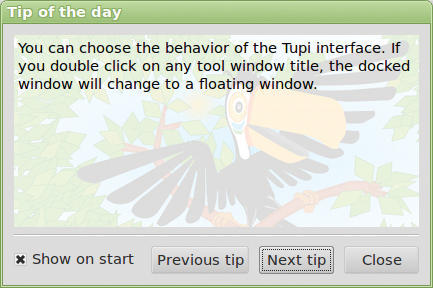 Figure 2: Tupi does not suffer from many of the bugs in KTooN, as this functional Tip of the day reveals.
The developer's official Tupi tutorial channel on YouTube offers many videos in English, the online manual has been translated completely into English, and most of the program is in English. One important innovation compared with KTooN is the tweening function (Figure 3), although the selection of tweening methods is still limited.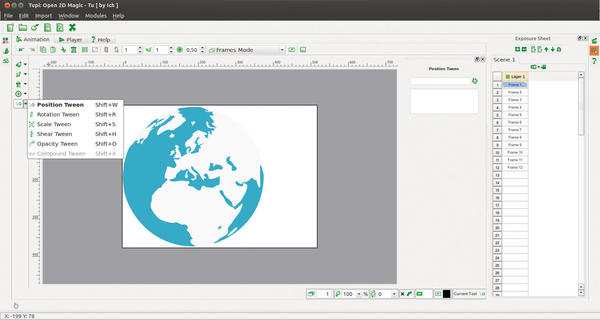 Figure 3: Tupi offers various tweening methods; however, its portfolio is far from complete.
The program also supports the cutout animation technique, wherein selected parts of a graphic, such as individual parts of the body of an animated figure, are moved or rotated.
Altogether, Tupi currently seems less like a fork and more like a newer version of KTooN: Bugs have been fixed, and a few features have been added, but the software is still somewhat lacking in functionality. However, if the existing options meet your needs, you will be able to create attractive animated films with Tupi.
Pencil
Pencil is available for download in the package sources of common distributions. The project provides a well-structured and easy-to-understand guide, but this software also is not the newest. The latest version is dated 2008, but the programmer recently announced that he has resumed development of a new version.
In Pencil, animations are edited on four layers: bitmap graphics, vector graphics, camera, and sound output. Each of these layers has its own timeline, so you can set what will be shown when for each output layer.
In the bitmap layer, the standard instruments (e.g., pencil, line tool, or paint bucket) are available for drawing images. Beyond that, you can import external graphics files. Interestingly, the vector graphics layer uses the exact same toolbox (Figure 4).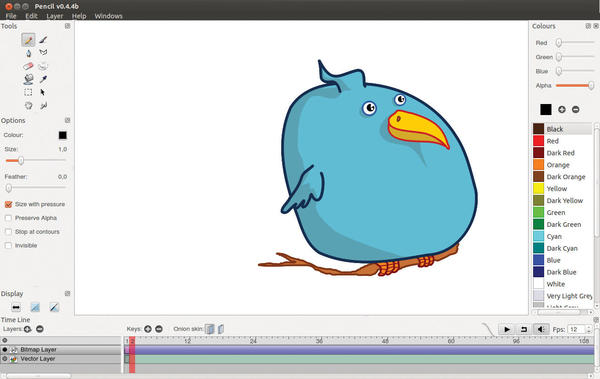 Figure 4: Pencil is used like a paint program but has additional timelines.
The only difference is that the software saves the images as vectors instead of pixels, which does not always work well when using the paint bucket to fill in areas. The camera layer defines the visible part of the image for each point in time. Variable background music is set using the sound layer.
One possible animation strategy is to draw a bitmap graphic first, trace it as a vector graphic as soon as the desired end result has been achieved, then subsequently add colors to the result.
If you want part of the drawing to change during animation, you have to make this happen by hand. Pencil does not support tweening, so you have to copy the graphic to the next frame; even the smallest change must be drawn by hand, which takes a lot of time. Even if graphic artists sometimes claim that professional-looking 2D-animation films require that each frame be drawn by hand, some automated support through tweening would still be welcome.
Pencil scores well mainly because it is intuitive and easy to use. The instructions are easy to understand and concise. Altogether, the program makes a good impression, but it's too bad that it does not include tweening functionality (Figure 5).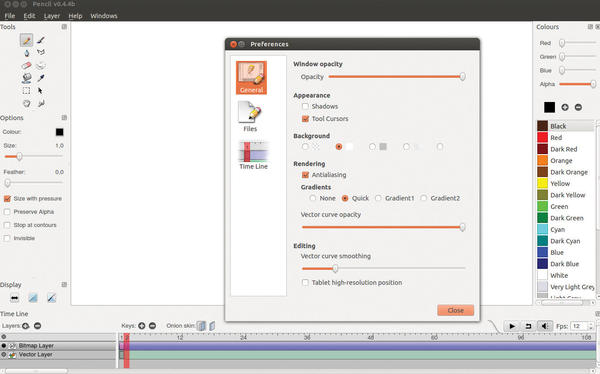 Figure 5: The limited functionality of Pencil makes it very easy to use.
Synfig Studio
Several years ago, Robert Quattlebaum authored the Synfig Studio animation software and tried to sell it. When commercial success was still not in sight by 2005, he published the source code as an open source product under the GNU Public License.
Since then, the community has continuously developed the software so that new updates appear regularly. Complete packages of the current stable release are available on the Synfig homepage for most popular distributions.
The detailed and easy-to-follow instructions are completely in English. While becoming familiar with the software, the focus on tweening becomes clear. Basically, you select key frames on the timeline between which the object is to change.
Additionally, the tweening techniques in Synfig Studio make it possible for graphics to morph into each other. You should plan a sufficient number of frames for this process so that the results will not look too artificial.
Each graphical object in Synfig Studio is its own layer, which can optionally interact with other layers – for example, with appropriate effects when they overlap.
The tools for creating graphic objects are similar to those in popular vector graphics programs. However, the program is not one large main window, but several independent windows distributed over the desktop (Figure 6).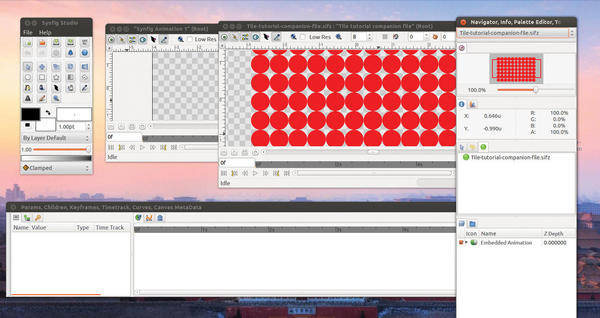 Figure 6: Synfig Studio consists of mutually overlapping individual windows.
Once you have become familiar with Synfig Studio, you will quickly learn to appreciate the program. Although the learning curve is steeper than for Pencil, the instructions prove to be very helpful. Furthermore, the program is also enriched by its functionality.
Summary
When considering which of these programs an animator should choose, KTooN can be eliminated, not least because of all its technical shortcomings that the Tupi fork surpasses. However, Tupi also leaves too many unfulfilled items on the animator's wish list.
Pencil recommends itself as an uncomplicated introduction to 2D animation. Because of its similarities with ordinary drawing programs, novices can quickly find their feet. Those who create elaborate animations with many parts that change simultaneously might find that working with Pencil is not very economical, not least because of the missing tweening function.
In this respect, Synfig Studio jumps into the breach with its many options and tweening methods. Bottom line, depending on the requirements of a project, either Pencil or Synfig Studio will prove to be suitable 2D animation software.
comments powered by

Disqus

Issue 198/2017
Buy this issue as a PDF
Digital Issue: Price $9.99

(incl. VAT)
News
Both projects help organizations build their own containerized systems.

Mark Shuttleworth has resumed the position of CEO of Canonical.

Microsoft's open source code hosting platform CodePlex will come to an end after a more than 10-year stint.

Comes with Gnome 3.24

The bug was introduced back in 2009 and has been lurking around all this time.

The new release deprecates the sshd_config UsePrivilegeSeparation option.

Lives on as a community project

Five new systems join Dell XPS 13 Developer Edition that come with Ubuntu pre-installed.

The Skype Linux client now has almost the same capabilities that it enjoys on other platforms.

At CeBIT 2017, OpenStack Day will offer a wide range of lectures and discussions.