Gran Canaria Desktop Summit: Akonadi for the Integrated Desktop
Jul 05, 2009
The Cross-Desktop Metadata track at this year's Gran Canaria Summit highlighted developer activity targeting central storage of contact data, email and other personal information.
Will Stephenson, responsible for Personal Information Management (PIM) software at Novell, introduced Akonadi, a service that centrally stores contacts, emails, IM entries and much more. Akonadi should replace the individual data storage of various applications, which were designed over the last 10 years to accommodate small, local data volumes, said Stephenson. Akonadi should provide one service with a unified API that scales well and is extensible to new data types as they emerge.
The large KMail and KOrganizer applications are currently undergoing refactoring to make them Akonadi-compliant. The Akregator RSS reader, the KPilot handheld tool and the KNode news reader are also in the works, reported Stephenson. KAddressBook will be reimplemented as codename KContactManager. At the conference, Stephenson invited developers to submit new interfaces for Akonadi.
To demonstrate just such an interface, Austrian KDE developer Kevin Krammer followed up in the next half-hour session by programming, partly with help from the audience, a simple Akonadi resource for read-only access.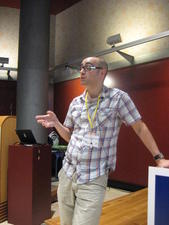 Will Stephenson presenting the Akonadi PIM integration system at Gran Canaria.
Comments
Re: e-d-s

You can think of Akonadi as a next generation implementation of the same idea.

Both are services running in the user's session (as opposed to running once per machine) and provide a central point of access for data.
Akonadi has been designed to work with all kinds of data, i.e. not restricted to contacts and calendar, but also e-mail, RSS feeds, bookmarks, news groups, etc.

Another difference is that Akonadi's data providers or backends (called Akonadi resource agents or Resources) are running in separate processes, thus shielding the Akonadi service from failure on their parts. If one Resource crashes, none of the other Resources nor Akonadi nor any of the applications are affected.

It basically also opens the way for implementing resources in any programming language or using any library stack because they don't have to be loaded into Akonadi as some kind of compatible plugin.

e-d-s

How does Evolution-data-server compare to Akonadi?
comments powered by

Disqus

Issue 37: Discover LibreOffice – 2019 Edition/Special Editions
Buy this issue as a PDF
Digital Issue: Price $15.99

(incl. VAT)
News
Anyone looking to finally get their hands on an early release of the PinePhone can do so as of November 15.

Microsoft is bringing it's new Chromium-based Edge browser to Linux.

OIN has deployed its legal team to find prior art.

The latest version of Fedora comes with new packages and libraries.

openSUSE enables developers to build their own WSL distributions.

A vulnerability in the sudo package gives sudo users more powers than they deserve.

The Art of PostgreSQL by Dimitri Fontaine is now available.

New distro will provide an upstream test bed for RHEL.

The feature will let developers restrict root access to the kernel.