Natty Narwhal Ubuntu 11.04 Now Available
Apr 28, 2011
Kate Stewart, Ubuntu Release Manager, today announced the availability of Ubuntu 11.04 codenamed Natty Narwhal.

11.04 releases of Ubuntu, Kubuntu, Xubuntu, Edubuntu, UbuntuStudio, and Mythbuntu are now available and ready for download.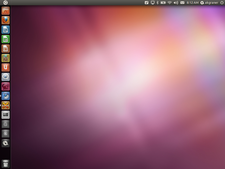 Screenshot of the Unity Desktop
The newest feature for Ubuntu users in the 11.04 release is Unity, the new UI for the desktop. Other features include a global menu, integrated dashes and touch screen support. A detailed list of changes can be found in the release notes
"This release breaks new ground for Ubuntu by offering users a PC experience that is stylish and efficient," said Jane Silber, CEO of Canonical. "With this release Ubuntu will recruit an entirely new wave of users to free software. Ubuntu 11.04 is a high watermark for what has been achieved with open-source technologies for the everyday computer user."
.
comments powered by

Disqus

Issue 37: Discover LibreOffice – 2019 Edition/Special Editions
Buy this issue as a PDF
Digital Issue: Price $15.99

(incl. VAT)
News
Anyone looking to finally get their hands on an early release of the PinePhone can do so as of November 15.

Microsoft is bringing it's new Chromium-based Edge browser to Linux.

OIN has deployed its legal team to find prior art.

The latest version of Fedora comes with new packages and libraries.

openSUSE enables developers to build their own WSL distributions.

A vulnerability in the sudo package gives sudo users more powers than they deserve.

The Art of PostgreSQL by Dimitri Fontaine is now available.

New distro will provide an upstream test bed for RHEL.

The feature will let developers restrict root access to the kernel.