Program Finalized: Jon maddog Hall to Present Keynotes at CeBIT Open Source Forum
Feb 08, 2011
The speakers' program at CeBIT Open Source in hall2 in Hannover, Germany, from March 1 through 5, 2011 is finalized, with a gaggle of Linux and open source celebrities. The talks will be available as live online video stream.
Keynote speaker during three days of the conference will be Jon "maddog" Hall, who with support from the Linux Foundation will delve into the hidden costs of proprietary software contrasted with the earning opportunities of free software.
Klaus Knopper will also round out the forum with daily lunchtime presentations of his exclusive CeBIT version of Knoppix 6.5. A further highlight is the keynote by Karl-Heinz Strassemeyer on Friday, March 4 with the title "From Linux to the Open Source Cloud". Now CEO of the Linux Solutions Group (Lisog), Strassemeyer was primarily responsible for introducing Linux to the IBM mainframe.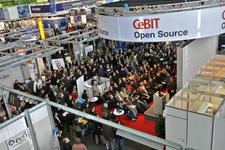 The Open Source Forum at CeBIT has attracted countless visitors in years past
The "Cloud" theme is not only key to this year's CeBIT, it is also a common thread in its program. On the subject, Free Software Foundation Europe (FSFE) president Karsten Gerloff will talk about how free software and the cloud can be related on Thursday, March 5. Also, Mike Müller of the Python Academy will inform developers about programming the cloud using scripting, and Udo Seidel of Amadeus Data Processing will cover using Ceph as the new filesystem for the cloud.
Additional exciting talks are promised by sysadmin Charly Kühnast, regular contributor to Linux Pro Magazine, as well as by mail specialist Peer Heinlein and forensics expert Tobias Eggendorfer. Especially fascinating for programmers could be the talk given by Nokia developer Daniel Molkentin on Qt Quick. Furthermore, Joachim Krause of Eclipse Source promises to enlighten everyone with his application programming experience.
A highpoint of the CeBIT program will be the presentation of the Linux New Media Awards on Thursday, March 3. Companies, projects and organizations will be recognized in seven categories for their special accomplishments in Linux and free and open source software. Award winners and presenters will report on their outstanding achievements.
The talks during the conference will become available as live video streams, which will be stored subsequently in the Linux Pro Magazine Online archives. The complete CeBIT Open Source program and information about the live streaming is available on our website.
comments powered by

Disqus

Issue 199/2017
Buy this issue as a PDF
Digital Issue: Price $9.99

(incl. VAT)
News
Both projects help organizations build their own containerized systems.

Mark Shuttleworth has resumed the position of CEO of Canonical.

Microsoft's open source code hosting platform CodePlex will come to an end after a more than 10-year stint.

Comes with Gnome 3.24

The bug was introduced back in 2009 and has been lurking around all this time.

The new release deprecates the sshd_config UsePrivilegeSeparation option.

Lives on as a community project

Five new systems join Dell XPS 13 Developer Edition that come with Ubuntu pre-installed.

The Skype Linux client now has almost the same capabilities that it enjoys on other platforms.

At CeBIT 2017, OpenStack Day will offer a wide range of lectures and discussions.