SELinux Sandbox for Untrusted Programs
May 28, 2009
The security framework SELinux is set to offer a Sandbox in which applications deemed insecure can be partitioned off from other system areas.
Red Hat colleagues Dan Walsh and Eric Paris have designed an additional security tool. SELinux project leader Walsh describes the functionality and development of this tool in a detailed blog entry. The main idea: for SELinux to limit the actions an application can perform and to confine untrusted binaries. This way, users should be able to work with programs and data that are not considered 100% secure.
The developers were inspired to create a sandbox to execute these security measures using the SELinux policies via a query on the Linux core list. Walsh describes: "The bug report talked about confining grep, awk, ls ... The idea was couldn't we stop the grep or the mv command from suddenly opening up a network connection and copying off my /etc/shadow file to parts unknown." Regarding further application areas, Walsh sees GRID jobs as potential danger, they might become Spam Bots or attack systems in some other form.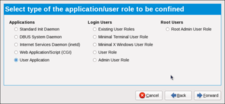 The Sandbox is just ten steps away: Dan Walsh chose "User Applications" for the Sandbox because the security tool is intended for the user as well as the administrator.
According to Walsh, only 10 clicks were needed to write the policy with the GUI program from Fedora 11. He delivers interested parties precise instructions. In addition to the policy, the "usr/bin/sandbox" tool was written in order to route contents into the Sandbox. One issue with the current version has not yet been fully dealt with: "My current intention with sandbox is not to handle X Apps, since these apps want to write all over the home directory ~/.gconf, ~/gnome., ~/.config ... and all over /tmp, along with use privs to talk to the X Server. I have some ideas on this for the future that I hope to experiment with."
In a message on the Linux kernel list, Eric Paris introduces a simple application example and invites users to share their experiences. "Check it out, SELinux confinement made easy."
comments powered by

Disqus

Issue 198/2017
Buy this issue as a PDF
Digital Issue: Price $9.99

(incl. VAT)
News
Both projects help organizations build their own containerized systems.

Mark Shuttleworth has resumed the position of CEO of Canonical.

Microsoft's open source code hosting platform CodePlex will come to an end after a more than 10-year stint.

Comes with Gnome 3.24

The bug was introduced back in 2009 and has been lurking around all this time.

The new release deprecates the sshd_config UsePrivilegeSeparation option.

Lives on as a community project

Five new systems join Dell XPS 13 Developer Edition that come with Ubuntu pre-installed.

The Skype Linux client now has almost the same capabilities that it enjoys on other platforms.

At CeBIT 2017, OpenStack Day will offer a wide range of lectures and discussions.