Issue #161 / Apr 2014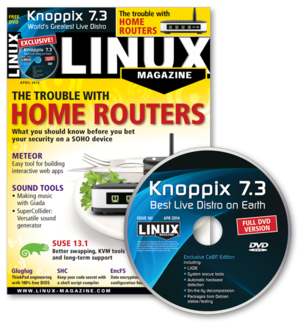 DVD: Knoppix 7.3
Approximate on sale dates:
UK/Europe: Mar 08
USA/Canada: Apr 04
Australia: May 05
Highlights:
Discover the vulnerabilities of typical home and small office routers, and consider the SafeSquid filter proxy for secure home surfing.
Cover Stories:
Security and SOHO Routers: Home and small office networks typically place their security in the hands of an inexpensive device that serves as a router. How secure are these SOHO router devices?
SafeSquid: If you are looking to secure your home surfing against questionable web content, you need a filtering proxy. SafeSquid filters content as it moves between the browser and the Internet.
Also in this issue:
Comment: The New Kid
On the DVD: Knoppix 7.3
News
SuperCollider: SuperCollider is a versatile and powerful sound generator.
EncFS: The EncFS virtual filesystem reduces the configuration overhead of encrypting data on Linux.
Meteor: Build interactive web apps the easy way with this sensible JavaScript development tool.
Knoppix 7.3: Learn about the latest Knoppix Live Linux distro.
Ask Klaus! Klaus Knopper answers your Linux questions.
Areca Backup: Hassle-free backups of individual hard drives.
Charly – Fish: The tasty Friendly Interactive Shell.
Security Lessons – DNS: Keep bad guys out of your network with targeted filtering.
SHC – Bash Script Compiler: Convert shell scripts directly into binaries.
Perl – Cucumber: Natural language test framework for developers.
Command Line – Vundle: Manage Vim plugins.
F3 – Testing Flash Memory: Check flash sticks for defects.
Workspace – HTML-Based Presentations: Great-looking presentations in a browser.
Giada: Process sound loops and more.
Labyrinth: Mind mapping software.
PiCam Surveillance: Video surveillance with the new Raspberry Pi camera.
openSUSE 13.1: Inside the newest version.
Gluglug: Laptop 100% free and open source.
Doghouse – Pay It Forward: "maddog" reflects on ways people can contribute to the present as well as the future of software development.
Kernel News: Chronicler Zack Brown reports on the latest news, views, dilemmas, and developments within the Linux kernel community.
Welcome
Sometimes when I'm watching the Internet news unfolding, I feel like I'm in one of those weird dreams where everything looks the same, but all reason is inverted in some way that only the people in the dream understand. The Internet brings down barriers, including those comforting barriers that provide a cozy space for our moral certainty to flourish. We lapse into approaching problems from the circle of our own experience, sometimes not noticing that we have traveled into very different places. And we mistake our viewpoint for our values, aligning ourselves with others who share a common attitude or rhetorical framework.
This month's DVD is a version of the Knoppix Live distribution created especially for the 2014 CeBIT expo and made available before release to Linux Magazine.
Updates on Technologies, Trends, and Tools
Pervasive vulnerabilities in SOHO routers
Home and small office networks typically place their security in the hands of an inexpensive device that serves as a router, DHCP server, firewall, and wireless hotspot. How secure are these SOHO router devices? We're glad you asked …
Exploring the SafeSquid filter proxy
If you are looking for a secure option for home surfing and want to protect your children against questionable web content, you need a filtering proxy. SafeSquid is a commercial proxy tool, but it comes with a free version for private users.
The new openSUSE 13.1
Version 13.1 of the community-based openSUSE offers many useful updates and will receive extended maintenance.
An open source laptop from Gluglug
A laptop with no proprietary BIOS and 100 percent open source software may sound too good to be true, but that's exactly what Gluglug delivers. Is it a good deal? Read on to find out.
SuperCollider sound generator
SuperCollider is a versatile and powerful sound generator that can be used to create, filter, and modulate sound. In this article, we tackle the basics.
Encrypting files and folders with EncFS
The EncFS virtual filesystem reduces the configuration overhead for data encryption on Linux.
Real-time web applications with the Meteor framework
The Meteor web framework lets you do all your programming in JavaScript – and it includes some useful features for rapid development.
Knoppix 7.3 CeBIT Edition
Knoppix 7.3 comprises the current state of Debian GNU/Linux development and comes with the current hardware support of kernel 3.13, a new update function, and extended security and privacy features.
Klaus Knopper answers your Linux questions
Data backup for individual hosts
Sometimes you just need to back up a few directories on a computer, not administer a distributed installation or an array of disks. Areca Backup gives you hassle-free backups of individual hard drives.
The sys admin's daily grind: Fish
Columnist Charly serves up Fish as the "shellfish" of the day. His conclusion: tasty, but not something you would want every day.
Filtering traffic by DNS name and IP address
Kurt describes how to keep bad guys out of your network using a targeted filtering approach.
Compiling Bash shell scripts
The Bash Shell Script Compiler converts shell scripts directly into binaries. Compiling your scripts provides protection against accidental changes, but you will have to contend with some quirks.
Using Cucumber and Perl to define test cases in natural language
The Cucumber test framework helps developers and product departments jointly formulate test cases, not as program code, but in plain English. The initially skeptical Perlmeister has acquired a taste for this.
Managing Vim plugins and scripts
If you use Vim, you'll likely need a tool to manage its hundreds of plugins. Vundle can help.
Checking USB flash drives and flash memory cards for correct functionality
USB memory sticks and flash memory cards are part of the equipment of almost every mobile IT user today, but media defects can cause data loss. A small tool by the name of F3 helps.
Creating HTML-based presentations
You can whip up great-looking HTML-based presentations that run in a regular browser using just a text editor.
LINUXUSER: Giada
Processing loops and more with Giada
Giada is a small piece of musical software that can be used in many ways. Mainly designed for working with loops, Giada also can be used as a drum machine or be flexibly integrated into your workflow, thanks to VST and MIDI support.
Creating mind maps with Labyrinth
The Labyrinth mind mapper lets you collect and organize your thoughts and ideas without major detours.
Contributing to the common good
"maddog" reflects on ways people can contribute to the present as well as the future of software development.
Chronicler Zack Brown reports on the latest news, views, dilemmas, and developments within the Linux kernel community.
Issue 163/2014
Buy this issue as a PDF
Digital Issue: Price $9.99
(incl. VAT)
Tag Cloud