Issue #166 / Sep 2014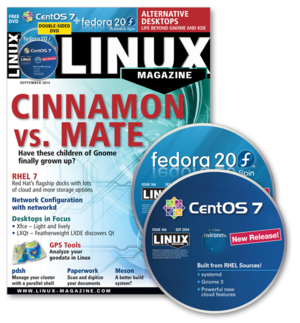 DVD: CentOS 7 and Fedora 20
Approximate on sale dates:
UK/Europe: Aug 11
USA/Canada: Sep 05
Australia: Oct 06
Highlights:
You don't have to settle for KDE or Gnome anymore. Linux offers a variety of powerful alternative desktops.
Welcome
We don't cover a lot of Microsoft technology in this magazine (except in our "Interoperability" and "Living with Windows" issues), but sometimes the moving and shaking of Microsoft really does affect the rest of the high-tech industry. Redmond announced that they were laying off 18,000 people recently; big layoffs are always big news, and Microsoft's bold swipe dominated the high-tech headlines, but another important update from the empire received a lesser share of attention. New Microsoft CEO Satya Nadella's manifesto to his employees, dated July 10, 2014, set out a new direction for the company.
CentOS 7 and Fedora 20 Robotics Spin
This month we bring you CentOS 7 (64-bit), a community enterprise operating system based on Red Hat Enterprise Linux, and the Fedora 20 Robotics spin (32-bit).
Updates on technologies, trends, and tools.
Exploring the Cinnamon and Mate desktops environments
The Cinnamon and Mate desktop systems have stirred up plenty attention around the Linux world. We'll show you around these innovative new desktop systems and help you decide which is right for you.
LXDE and Razor-qt come together
The popular LXDE lightweight desktop is undergoing big changes under the hood, and the future looks bright.
COVER STORIES: DMDc
Debian meets Mate with the versatile DMDc Live Linux
Mate isn't just for Mint users. The DMDc project is Mate on top of Debian Testing.
COVER STORIES: Xfce
The Xfce desktop — Small, fast, and easy on resources
The Xfce desktop travels light but still comes with all the essential features.
Read and process GPS data
Almost all manufacturers of GPS devices use proprietary formats to save routes, tracks, and waypoints. Vendors unfortunately rarely offer Linux software for uploading and downloading or processing the data. Four GPS editors keep Linux users on the right track.
Red Hat Enterprise Linux 7 tested
On June 10, Red Hat launched a new major release of its enterprise distribution, RHEL 7. We take a look to find out where RHEL is headed.
Responsive web page layout by display size
Make your blog look good on both desktop monitors and modern smartphones with high-resolution graphics by adding CSS and media queries to change the layout on the fly.
The sys admin's daily grind — Corkscrew
Sys admin columnist Charly never takes a vacation from the Internet. A beach bar with WiFi is quickly found, but it runs a forced proxy, which thinks that the SSH port (22) is in league with the devil and blocks the connection. Time to drill a tunnel.
systemd-networkd — Network configuration
The new networkd component of the systemd project supports basic network configuration. Despite its early stage of development, one thing is clear: This is a daemon with brains.
Meson — a new build system
Developers fed up with cryptic Makefiles should take a look at the new Meson build system, which is simple to operate, offers scripting capabilities, integrates external test tools, and supports Linux, Windows, and Mac OS X.
Parallel shell with pdsh
The most fundamental tool needed to administer a cluster is a parallel shell, which allows you to run the same command on a series of nodes. In this article, we look at pdsh.
Paperwork battles the increasing stacks of paper
Paperwork was developed to manage the paperless office – a dream as old as desktop PCs.
Complementing cd with autojump
Autojump is a mature and widely available command-line tool for navigating your directory structure. We show you how it works.
Publishing with GitBook
Write and publish ebooks with the GitBook software and publishing platform.
Chapeau Linux multimedia and gaming platform
If you are looking off the beaten Ubuntu and Debian paths for a fast, multimedia distro with a Gnome 3 desktop, take a closer look at Fedora-based Chapeau Linux.
Improving performance of Linux on ARM
"maddog" looks at some of Linaro's efforts to improve GNU/Linux performance on ARM architectures.
Chronicler Zack Brown reports on the latest news, views, dilemmas, and developments within the Linux kernel community.
Who pays free crypto developers?
Although open source crypto software is used virtually all over the world, the projects behind it are often small and chronically underfunded. Heartbleed, however, brings a possibility of improvement.

Issue 167/2014
Buy this issue as a PDF
Digital Issue: Price $9.99

(incl. VAT)
Tag Cloud