Issue #226 / Sep 2019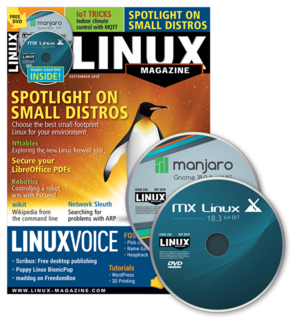 DVD: Manjaro Gnome and MX LInux
Approximate on sale dates:
UK/Europe: Aug 03
USA/Canada: Aug 30
Australia: Sep 30
Highlights:
Hardware resources keep expanding, and mainstream OS systems also keep expanding, sucking up the newfound space with more and better bloatware. But many users would rather escape the arms race and keep it simple. This month, we review some of the top resource-conscious small distros. Also inside:
Nftables -- this new tool for managing Linux firewalls is gradually replacing iptables.
Timeshift -- a user-friendly app for creating and managing system snapshots.
Check out MakerSpace for a homegrown IoT humidity monitor, and see our LinuxVoice section for tutorials on WordPress and 3D
The Big Picture
IBM finally closed the deal to purchase Red Hat this month, writing a $34 billion check for the leading Linux company in hopes of restarting its cloud and network service endeavors. Red Hat was a really big fish in the open source scene, but they are tiny compared to IBM, and many observers are wondering how this story will unfold.
MX Linux 18 and Manjaro Gnome 18.0
Debian Buster Arrives; IBM Acquires Red Hat; Raspberry Pi 4 Is Here; Ubuntu Takes a U-Turn with 32-Bit Support: OpenSSH Fixes Side Channel Attacks; Firefox Fixes Error that Crashed HTTPS Pages; and Altair Releases HyperWorks 2019
Adding git Documentation; Untangling the System Call Situation; and Bit or Bitmap?
We round up some top small Linux distributions
Beyond the realm of mainstream, enterprise-ready desktop giants lie a handful of miniscule Linux distributions that barely leave a noticeable footprint on a computer's resources. Here's a look at some of the leading small distros.
Exploring the new nftables firewall tool – a successor to iptables
The nftables firewall utility offers a simpler and more consistent approach for managing firewalls in Linux.
Unit testing Go code with mocks and dependency injection
Developers cannot avoid unit testing if they want their Go code to run reliably. Mike Schilli shows how to test even without an Internet or database connection, by mocking and injecting dependencies.
Create snapshots with Timeshift
Timeshift lets users easily create, manage, and restore system snapshots.
Editing PDF Structure with QPDF
Use QPDF to easily make structural changes to your PDFs, including reorganizing pages, creating watermarks, setting encryption options, and changing permissions.
Making PDFs More Secure in LibreOffice Writer
Depending on your needs, LibreOffice Writer offers varying degrees of security for PDFs.
Read Wikipedia from the command line
Save time and mouse clicks by using wikit to search and read Wikipedia entries at the command line.
Log2Ram and frontail
If you run 25 Raspberry Pis at home, and an equal number of other IP devices, you might also think like Charly does when it comes to log management. The result is atomic technology and a logfile disk that is not permanently overloaded.
Using ARP for Network Recon
When it comes to network recon, arp-scan allows you to collect device intel quickly and stealthily.
Controlling a four-axis robot arm
Learn the basics of robotics with a Raspberry Pi and a PiXtend controller.
Improving USB reliability
The Programmable USB Hub promises to resolve common issues with USB reliability in the short term, making way for future open hardware testing and debugging.
Wireless thermo-hygrometer
A WiFi sensor monitors indoor humidity and temperature and a Node-RED dashboard reports the results, helping you to maintain a pleasant environment.
Introduction
This month in Linux Voice.
Getting Started with Scribus 1.5
Scribus is a desktop publishing tool for Linux that expands your options when designing simple flyers and brochures, giving you plenty of room to be creative.
Get to know BionicPup, the latest version of Puppy Linux
Like its predecessors, this ultralight OS is fast and versatile with an easy-to-use interface.
This month Graham dives into LMMS, Name Generator, Heaptrack, Binaural Audio Editor, Meshroom, Palapeli, and much more!
Making the most of WordPress
WordPress is one of the most popular content management systems. With the introduction of the new Gutenberg editor, now is the time to (re)learn WordPress.
Tools to monitor your 3D prints
One last step remains in our 3D-printing voyage: actually printing something. This issue, we'll tackle how to print and monitor your print at the same time.

Issue 36: Getting Started with Linux – /Special Editions
Buy this issue as a PDF
Digital Issue: Price $15.99

(incl. VAT)