Issue #182 / Jan 2016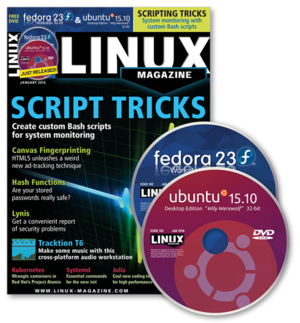 DVD: Fedora 23 Workstation and Ubuntu 15.10 Desktop
Approximate on sale dates:
UK/Europe: Dec 05
USA/Canada: Jan 01
Australia: Feb 01
Highlights:
In this issue you learn to create custom Bash scripts for system monitoring.
We don't really know what sells a magazine on the newsstand. Big publishing companies have whole teams of marketing analysts studying trends and performing Big Data maneuvers on the sales data. Our ragtag group can only treat it as something of an art form: We throw an issue together, and sometime later, we find out if we guessed right when choosing what to put in it.
Fedora 23 Workstation and Ubuntu 15.10 Desktop
Updates on technologies, trends, and tools
Custom solutions for system monitoring and control
Off-the-rack monitoring tools often offer too many functions or fail to offer precisely what you need, but shell scripts let you create individual monitoring routines.
Briefly tested: Trowser 1.3, wxMEdit 2.9.9, BinaryCrypt 2.0, GSmartControl 0.8.7, Pam_ihosts 1.1, Rush 1.7.
Managing Docker containers with Kubernetes
After you jump onto the container bandwagon, you will find yourself looking for high-performance solutions for managing the Docker landscape. Several vendors offer special operating system images with built-in container management tools. Red Hat uses Atomic with Google's Kubernetes management tool.
Hashes, salt, and pepper
Cryptographic hash functions help you protect your passwords, but hashing is only secure if properly understood.
Harden your systems with Lynis
The Lynis testing tool looks for potential security problems and even suggests possibly remedies.
The latest ad tracking tricks and what to do about them
We'll tell you about some powerful new ad tracking techniques and how you can stop them.
The sys admin's daily grind: ddrescue and DDRescue-GUI
Sometimes even sys admin Charly doesn't have a backup at hand; or, maybe it's ruined because the removed disk had corrupt data. Here, he offers some advice on how to handle the situation.
Managing your network interface with ethtool
If ping won't solve your network configuration issues, try ethtool, a powerful utility that lets you manage configuration settings for your network interface card.
Creating parallel applications with the Julia programming language
Parallel processing is indispensable today – particularly in the field of natural sciences and engineering. Normal desktop users, however, can also benefit from higher performance through parallel execution with at least four calculation cores.
Smart research using Elasticsearch
Websites often offer readers links to articles about similar topics. Using Elasticsearch, the free search engine, is one way to find related documents instantly and automatically.
Digital audio workstation Tracktion T6 at a glance
The Tracktion digital audio workstation is finally taking off as it reaches version 6.
Using Atom packages
The Atom text editor's default functionality can be extended using packages. We look at packages that coders and writers alike may find rather useful.
Using basic systemd commands
Systemd is a complex management structure with many commands and capabilities. We provide an overview of a few basic commands and their use.
QEMU 2 as a versatile virtualization platform
The new version of QEMU is a free virtualization solution that offers excellent stability and flexibility. We show how to deploy QEMU 2 in a Live environment.
What happens when something breaks, and there's no one left to fix it?
The passing of the first generation of programmers brings to light the predicament of what to do when software outlives its practitioners.
Crowd Supply boosts open hardware
A small crowdfunding site is helping to boost the growth of open hardware businesses.
Chronicler Zack Brown reports on the latest news, views, dilemmas, and developments within the Linux kernel community.

Issue 184/2016
Buy this issue as a PDF
Digital Issue: Price $9.99

(incl. VAT)