Issue #180 / Nov 2015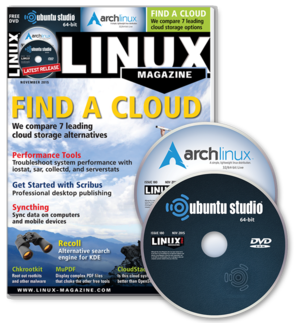 DVD: Ubuntu Studio 15.04 and Arch Linux 2015.09.01
Approximate on sale dates:
UK/Europe: Oct 03
USA/Canada: Oct 30
Australia: Nov 30
Highlights:
In this issue we look at cloud tools for the corporate network.
New and Old
Law enforcement officers in Japan recently indicted former Mt. Gox CEO Mark Karpelès. The leader of the now-defunct Bitcoin repository has been in custody since June as investigators consider what might have happened to more than $183 million in lost Bitcoin funds.
Ubuntu Studio 15.04 and Arch Linux 2015.09.01
Updates on technologies, trends, and tools
COVER STORIES: Pydio
Tested – Free cloud storage software Pydio
Pydio is a free software solution trying to establish itself among cloud storage solutions such as ownCloud or proprietary services like Dropbox for synchronizing data across several computers and sharing folders with colleagues or friends.
Climbing into the cloud with Apache CloudStack
Everybody's talking about the OpenStack cloud, but many users prefer Apache's CloudStack – another open source cloud system with a long history and a more unified design.
Sizing up some typical cloud storage providers
Many companies now offer data storage in the cloud. We tested seven alternatives with a close look at security features.
Tool tests on the fast tracks
Tools tested: MenuMaker, CLOC, ddrescueview, Hiawatha, pam_honeycreds.so, and XDM.
One LibreOffice document for multiple uses
With a little planning and a few LibreOffice tricks, you can create one document that contains text customized for various end users.
Perl script as a sniffer with built-in statistics
If you need to browse through packets rushing by on the local network, Wireshark provides a useful service. But, if you prefer to build your own tools, why not use the command-line version, TShark, and a terminal-friendly Curses UI?
Klaus Knopper answers your Linux questions
Klaus Knopper answers your Linux questions.
The sys admin's daily grind – paping
Like every sys admin, Charly occasionally throws a pebble at a machine to see if it is still alive. If the other end does not respond to the ping, that does not always mean it's dead. Maybe the pebble just missed.
Root out rootkits
Detect rootkits, worms, and other malware with chkrootkit.
Performance analysis with iostat, sar, Ksar, collectd, and serverstats
We describe five tools you can use to monitor and troubleshoot your system's performance.
Lost and Found
KDE's unofficial search engine may be the most usable choice of all.
Synchronizing data between computers and mobile devices using Syncthing
Syncthing is a free alternative to BitTorrent Sync for synchronizing data on computers and mobile devices.
Recovering files with Magic Rescue
The Magic Rescue recovery utility saves corrupt or deleted files by reading a file's magic number.
Scribus basics
Despite its deceptively simple appearance, Scribus packs serious power. We can help you get started with this desktop publishing powerhouse.
LINUXUSER: MuPDF
Display complex PDF documents with MuPDF
PDFs with many hundreds of pages and equal numbers of images can easily bring PDF viewers such as Okular or Evince to their knees. In contrast, MuPDF puts even the thickest digital tomes on your screen in the blink of an eye.
LinuxCon North America 2015
The home turf of Microsoft was invaded by Linux enthusiasts for three days of keynotes, talks, and community.
Balancing materials, power, and cost in modern computer design
"maddog" looks at the idea of balance in modern computer design – the trade-offs that must be made by designers to meet changing requirements.
The Linux Beer Hike in Luxembourg
Wiltz is located in the heart of the Ardennes Forest. The small city turned out to be an ideal location for the LBW. It offered a good hall with plenty of room for workshops and talks, the National Museum of the Art of Brewing, and plenty of hiking trails.
Chronicler Zack Brown reports on the latest news, views, dilemmas, and developments within the Linux kernel community.

Issue 23: Raspberry Pi Adventures/Special Editions
Buy this issue as a PDF
Digital Issue: Price $15.99

(incl. VAT)