Issue #177 / Aug 2015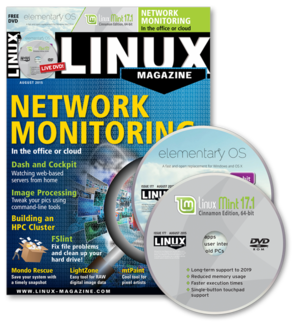 DVD: Linux Mint 17.1 and Elementary OS
Approximate on sale dates:
UK/Europe: Jul 06
USA/Canada: Jul 31
Australia: Aug 31
Highlights:
In this issue we discuss Network Monitoring: In the office or cloud.
On May 29, Silk Road founder Ross Ulbricht received a stern sentence for his involvement with building and operating the world's first global anonymous supermarket for everything. Some were surprised with the severity – life in prison without parole for the 31-year-old "Internet entrepreneur." But the Silk Road led its wayfarers way out beyond the cutting edge, and if you live your life as a pioneer, sometimes you get surprised.
Linux Mint 17.1 (64-bit) and Elementary OS (32-bit)
Updates on technologies, trends, and tools
Sensu — A powerful and scalable monitoring solution
When the Twitter hashtag #monitoringsucks gained popularity a few years ago, it seemed as though monitoring software had reached its limits and stagnated. Will Sensu launch a new golden age?
Monitor your web-based servers with Linux Dash and Cockpit
Linux Dash and Cockpit are small-scale solutions for monitoring a cloud-hosted virtual server from home.
Why users are changing their monitoring solution
Many enterprises use the free Nagios monitoring solution; some would prefer to change to something else. We talked to people who switched to find out how they fared.
Image editing with command-line tools
Powerful command-line tools offer fast and easy image editing.
The nitty gritty of Unix rights management
People applying for IT jobs should brace themselves for the popular interview question about the sticky bit in Unix operating systems. It certainly pays to know.
Back up your systems with Mondo Rescue
A timely snapshot by Mondo Rescue puts a computer back on its feet after a system failure in just a few minutes.
Klaus Knopper answers your Linux questions
Klaus addresses problems with Wheezy updates, Adobe Flash, dial-up settings, and mountpoint dates.
The fundamentals of an HPC cluster
The beginning for high-performance computing is understanding what you are trying to achieve, the assumptions you make to get there, and the resulting boundaries and limitations imposed on you and your HPC system.
The sys admin's daily grind — PomodoPi
Charly starts the tomato and dill season aboveground with a traffic light and underground with a soaker hose, along with assistance from two gardeners and the ubiquitous Raspberry Pi board.
Clean your filesystem with FSlint
FSlint detects the source of filesystem problems and remedies or mitigates them while cleaning up the hard drive.
Convert RAW data with LightZone
The RAW format preserves the full splendor of digital image data. You can develop this material into a format for everyday use with LightZone.
Setting type in LibreOffice Writer
LibreOffice Writer is a serviceable desktop publisher with more typography features than most users imagine.
Querying the package list with apt-cache
We take a look at apt-cache, an essential utility for command line-based package management.
mtPaint makes painting easy
You can create pixel art in just a few mouse clicks with the paint program mtPaint, and it can even teach your works of art how to walk.
Using the Marble mapping tool
Although Marble might look like a rather bare-bones map application, it has a few tricks up its sleeve that make it a useful mapping tool.
Making computer science education more available
"maddog" looks at some ways that computer science education can be made available to students of all ages.
Chronicler Zack Brown reports on the latest news, views, dilemmas, and developments within the Linux kernel community.

Issue 180/2015
Buy this issue as a PDF
Digital Issue: Price $9.99

(incl. VAT)