Issue #223 / Jun 2019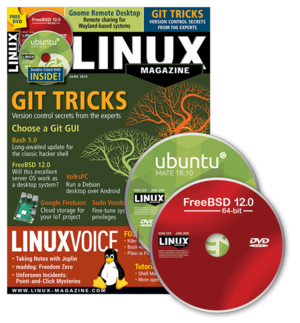 Approximate on sale dates:
UK/Europe: May 04
USA/Canada: May 31
Australia: Jul 01
Highlights:
This month we share some advanced techniques for working with the famous Git remote version control system used by open source developers. Other highlights in this issue include:
Desktop FreeBSD – is this highly secure and stable server operating system a worthy replacement for desktop Linux?
Sudo Voodoo – Sudo is a popular tool that lets you change user privilege levels on the fly. We show you some tricks for making sudo more powerful and more secure.
Look in MakerSpace for a study of Google's Firebase cloud platform for IoT, and check out LinuxVoice for a tutorial on Bash shell math.
The Free Software community sometimes reminds me of those similar-but-mysteriously-not-similar parallel universes that turn up in science fiction novels. It looks just like the rest of the world, but occasionally you get a reminder that it really is a little different.
FreeBSD 12.0 and Ubuntu MATE 18.10
Updates on technologies, trends, and tools
In the news: Software Freedom Conservancy announces end to VMware lawsuit; Chef goes all open source; SUSE spins off from parent company; Gnome 3.32 released; NSA's reverse engineering tool released; and a new Mirai Botnet variant discovered.
Zack Brown reports on enhancing KUnit, arguing over a nonexistent problem, and Cgroup core wars.
New energy at SUSE's annual SUSECON conference
The SUSE community pondered new challenges and the path ahead at its annual SUSECON convention in Nashville, Tennessee.
Tips from the experts on getting more from Git
The Git distributed version control system is a popular tool for managing open source development projects. If you know the basics of Git but are looking to learn the ways of the experts, read on for some useful Git tips and tricks.
Four graphic interfaces for Git
Complex Git projects sometimes require a better view of the dependencies and branches. Several tools offer GUI options for Git. We take a look at gitk, gitg, git-gui, and GitAhead.
FreeBSD 12 as an alternative to the Linux desktop
FreeBSD is a reliable and highly secure server operating system. We look at how FreeBSD fares as a desktop system.
Using VolksPC OS to run Linux applications over Android
Linux desktop users can now use an estimated two million Android apps that were previously unavailable on Linux with VolksPC OS.
Using sudo options to enhance security
By taking the time to learn sudo's many options, you can make your system more secure.
The decade long wait for Bash 5
It's a coincidence that the Linux kernel and Bash jumped to version 5.0 at about the same time. While Linus assigns the numbers as he sees fit, Bash changes its version when major adjustments are made. Here's what users can expect in Bash 5.
An alternative to Docker, Snap, and company
When setting up complex web-based services such as Drupal or Plone, there are many hurdles to overcome. Bitnami will make your job easier.
Log File Navigator
During a long trek through the verbose syslog, really important warnings and errors are scattered along the path. Sometimes a missing message can be the decisive event. Sys admin columnist Charly has now hired a tracker to help him search for clues: Log File Navigator.
Custom file monitoring
When it comes to file monitoring, tail's replacements, colortail and MultiTail, offer more sophisticated control over how your information is displayed.
Remote access to Wayland desktops under Fedora 29
In Fedora 29, you can enable a VNC server on Wayland with a few mouse clicks, thus enabling remote desktop access.
Screen scraping with Colly in Go
The Colly scraper helps developers who work with the Go programming language to collect data off the web. Mike Schilli illustrates the capabilities of this powerful tool with a few practical examples.
The Road to Production
Despite challenges, hardship, and delays, the EOMA68 laptop project is set to test its first PCBs. Through this learning curve, Leighton, the project's developer, has laid the groundwork for other open source hardware pioneers.
Cloud storage for your IoT projects
IoT projects on the Google Firebase platform promise future expandability and features.
This month in Linux Voice.
Cooperation and freedom for all
The GPL's "freedom zero" can be applied to more than just open-source software.
Unforeseen Incidents combines suspense with easy puzzles Point-and-Click Mystery
In Unforeseen Incidents, a deadly virus and a spooky government quarantine are the prelude to an exciting point-and-click adventure for adults.
LINUX VOICE: Joplin
Open source note taking with Joplin Listed and Distributed
If you are looking for an open source alternative to Evernote, why not switch to Joplin?
If there's one thing writing FOSSPicks has taught Graham, it's that there are as many ways to install and build a package as there are to cook an egg.
Prepare calculations and chart results with Bash Math, Shell Style
While Bash is not the most advanced environment for doing and visualizing math, its power will surprise you. Learn how to calculate and display your results with shell scripts.
Using OpenSCAD to build custom 3D pieces Build Your Own Body
OpenSCAD lets you use simple scripts to build 3D bodies from primitive shapes that you can then send to your 3D printer. It also lets you create custom shapes for pieces and objects. In this article, we look at two ways to do just that.

Issue 35: 101 Cool Linux Hacks/Special Editions
Buy this issue as a PDF
Digital Issue: Price $15.99

(incl. VAT)