Issue #169 / Dec 2014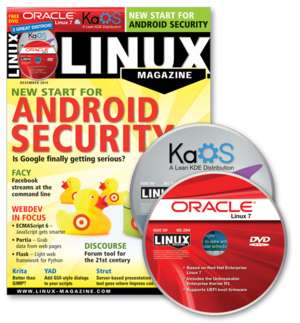 Approximate on sale dates:
UK/Europe: Nov 01
USA/Canada: Nov 28
Australia: Dec 29
Highlights:
This month we offer a sneak peek at security features in the upcoming Android L release.
Sometimes I'm amazed at how this column just slips out into the world and no one says much about it. One thing I do hear occasionally is that "It's refreshing that you aren't just summarizing the contents of the issue, which is what most welcome columns do." I do plead guilty to having a great many opinions, some of which I manage to share from time to time in this space. However, in this case, my opinion does point to an article you'll see in this month's issue.
Oracle Linux 7 and KaOS 2014.08
Updates on Technologies, Trends, and Tools
A sneak peek at security features in the upcoming Android L release
Google says the upcoming Android L release will be far more secure than its predecessors.
Web programming with ECMAScript 6
The new ECMAScript 6 language eliminates many historical problems associated with JavaScript.
COVER STORIES: Portia
Aggregating data with Portia
Are you interested in retrieving stock quotes in machine-readable form off the Internet? No problem: After a few mouse clicks, Portia weaves a command line and wraps the data in JSON format.
COVER STORIES: Flask
Exploring the Flask web framework in Python
The Flask micro framework emerged from an April Fool's prank, but this simple and easy web development aid is no joke.
Stat-like command-line tools for admins
ASCII tools can be life savers when they provide the only access you have to a misbehaving server. However, once you're on the node what do you do? In this article, we look at stat-like tools: vmstat, dstat, and mpstat.
Klaus Knopper answers your Linux questions
Answers to your Linux questions.
Migrating RAID – Erratum
A correction to the Migrating RAID article in issue 168 (November 2014).
Using QPxTool to check optical drives and media for errors
Optical disks vary greatly in terms of quality. To use them optimally and avoid data errors, you need only two things: Linux and QPxTool.
The sys admin's daily grind – Air traffic control
When he sees vapor trails in the skies above the Lower Rhine area, sys admin Charly Kühnast doesn't just dream of faraway places. With a Linux system and a DVB-T stick, he grabs the signals from jets flying overhead and tracks their courses on a map.
Discourse – Bringing civilized discussion to the Internet
The open source Discourse framework modernizes bulletin boards and online forums with live updates as you read, providing never-ending scrolling, community moderation capabilities, heuristic spam blocking, special layouts for mobile devices, and more.
Automatically monitoring your home network
To discover possibly undesirable arrivals and departures on their networks, a Perl daemon periodically stores the data from Nmap scans and passes them on to Nagios via a built-in web interface.
FEATURES: Facy
Command-line client for Facebook
The Ruby-based Facy command-line client lets you display Facebook streams at the command line, as well as comment and post messages. However, getting there can be tricky.
Calendaring from the command line
We take a spin through several personal calendar apps that you can manage from the command line.
Krita: Listening to the pros
Krita began as a hobby but became one of free software's success stories with the help of its users.
Create and edit presentations with Strut
The open source Strut tool lets you create slideshows and other presentations quickly and easily – with no compatibility issues.
Using ExifTool
Understanding the full power of ExifTool can be daunting. We show how to put it to practical use.
Don't rush the testing process
"maddog" recounts a tale illustrating the importance of thorough product testing.
Chronicler Zack Brown reports on the latest news, views, dilemmas, and developments within the Linux kernel community.

Issue 172/2015
Buy this issue as a PDF
Digital Issue: Price $9.99

(incl. VAT)