Issue #197 / Apr 2017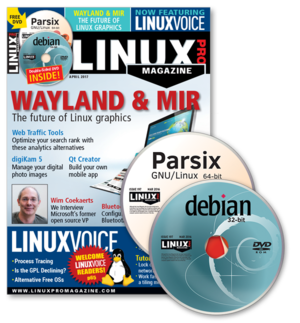 DVD: Parsix GNU/ Linux (64-bit, Live) and Debian 8.7 Jessie (32-bit, Install)
Approximate on sale dates:
UK/Europe: Mar 04
USA/Canada: Mar 31
Australia: May 01
Highlights:
This month we show you why the X11 system that is the basis for Linux graphics might not be around much longer – and we explore a pair of alternatives that might replace it: Wayland and Mir.
Other highlights:
• Web Traffic Tools – Use these free apps to optimize your search rank – without the privacy complications of working with Google (page 34).
• SSH Tricks – SSH is much more than a secure Telnet alternative (page 44).
Also, lots more at Linux Voice (page 65), including a look at process tracing, a study of some alternative free operating systems, and a tutorial on tiling window managers.
Welcome
PayPal cofounder and rocket maker Elon Musk keeps getting himself into the news. Sometimes he gets notice for his new products and projects, but he is also famous as a kind of self-appointed spokesman for the techno-future.
Parsix GNU/Linux (64-bit, Live) and Debian 8.7 Jessie (32-bit, Install)
Updates on technologies, trends, and tools
Chronicler Zack Brown reports on the latest news, views, dilemmas, and developments within the Linux kernel community.
Microsoft's former open source VP Wim Coekaerts
Former Microsoft open source VP Wim Coekaerts.
The new display servers
The X Window System, which dates to the 1980s, still forms the basis of Linux's graphical user interface, but it does cause some despair among developers with its legacy ballast and outmoded technology. Wayland and Mir are two promising candidates for the changing of the guard.
New features in digiKam 5
The freshly released digiKam 5 boasts a number of new features, brings many improvements, and ditches some legacy ballast.
Traffic analysis tools for websites
If you are looking for an alternative to Google Analytics for studying website data, you can choose from a few free alternatives. In this article, we look at Piwik, Open Web Analytics, and eAnalytics.
Create mobile apps with Qt Creator
Find out how to create a cross-platform app with the veteran tool Qt Creator.
Improve the way you work with Secure Shell
Many Linux users employ Secure Shell to log in remotely and work as if on a local machine. But SSH can do even more – the application will send commands, route other TCP connections through an encrypted tunnel, and provide multiplexing support.
The sys admin's daily grind – Airsensor
If the air in a room smells stale, somebody will get up and open the window to let in some fresh air. Charly, however, wanted to measure its exact staleness, so he set off to find out armed with USB hardware and Linux.
Configuring Bluetooth devices with bluetoothctl
The bluetoothctl command will keep your Bluetooth devices talking to Linux.
Python graphics libraries for data visualization
Python's powerful Matplotlib, Bokeh, PyQtGraph, and Pandas libraries lend programmers a helping hand when visualizing complex data and their relationships.
Set up Amazon Web Services – Part 2
DIY Python scripts run in container environments on Amazon's Lambda service – this snapshot example deploys an AI program for motion analysis in video surveillance recordings.
Introduction
This month in Linux Voice.
LINUX VOICE: News
The Linux Voice view on what's going on in the world of Free Software.
The state of copyleft in an age of permissiveness.
Even outsiders feel the benefits.
We all love Linux, but there are many other free software operating systems out there that are worth exploring.
Changing Focus
"maddog" provides an update on Project Cauã, with new focus on helping university students and small businesses.
Mesa
Peek below the shiny interface of your machine and you'll probably find Mesa in the engine room.
Process Tracing
Ever wondered what processes are currently doing on your system? Linux has a capable mechanism to answer your questions.
Graham searches for the best new free software
Calligra 3.0, SystemdGenie, Kaku 1.8.5, Alacritty 0.1, Standard Notes, Handbrake 1.0, Synfig Studio 1.2.0, Iridium, KeepPassXC 2.1.0, Voxeliens, and Wine 2.1.
Lock Down Your Network with Tinc
Block attackers from all your machines with a virtual mesh network.
Master Your Desktop Be a Window Wizard
Regular window managers are so 2016 – install a tiling WM and work faster, smarter, and cooler.

Issue 198/2017
Buy this issue as a PDF
Digital Issue: Price $9.99

(incl. VAT)