Issue #231 / Feb 2020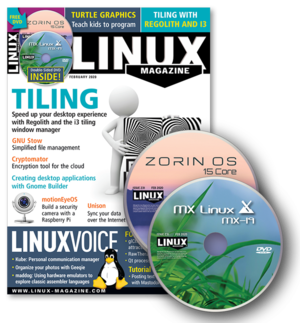 Approximate on sale dates:
UK/Europe: Jan 04
USA/Canada: Jan 31
Australia: Mar 02
Highlights:
Are tiling window managers still relevant for today's desktop? This month we explore the possibilities of the tiling paradigm with a modern Linux built for tiling. Other highlights include:
Cryptomator – a free tool for encrypting cloud data.
Unison – access your files from anywhere with SSH and this popular sync tool.
Check out MakerSpace for a story on building your own security camera with a Raspberry Pi and motionEyeOS, and turn to LinuxVoice for a look at the innovative Kube communication and collaboration client.
Short Ride
This month, we who follow such things marked the passing of Unicorn Rides, a scooter vendor that billed itself as "the magical electric scooter to get where you're going." Their slogan needed some work ("get where you're going" being both tautological and overused), but the concept had some promise.
MX Linux MX-19 (64-bit) and Zorin OS 15 Core (64-bit)
In the news: Elementary OS 5.1 Has Arrived; Linux Kernel 5.4 Released; System76 To Design And Build Laptops In-House; SUSE Adds SUSE Linux Enterprise to the Oracle Cloud Infrastructure;
Zack discusses when to break the ABI and the status of vboxsf.
Promoting Adoption
As the Linux Foundation approaches its 20th anniversary, we sit down with Jim Zemlin to talk about how the nonprofit has expanded its mandate since its inception.
Exploring the i3 tiling window manager with Regolith Linux
The i3 window manager organizes applications in a flexible grid. Regolith is an Ubuntu-based Linux alternative that makes it easy to explore i3 and window tiling.
A powerful IDE for Gnome
This integrated development environment for Gnome offers several features gedit lacks.
Simplifying file management with GNU Stow
Stow helps you manage custom configuration files across multiple users and computers, as well as organize your dotfiles.
Store data securely in the cloud with Cryptomator
Cloud services often place little value on data encryption. With Cryptomator, you can easily and transparently encrypt your data locally before uploading to the cloud.
Cross-platform file compression
If you use file compression regularly, zip belongs in your Linux toolbox.
Delivery Notification
Our columnist Charly K¸hnast doesn't want to be out when a package delivery service is standing at his front door with some goodies. When the courier rings, he can have the Telegram API send a notification to his mobile phone.
Control your Android smartphone from your desktop
With guiscrcpy graphical user interface and the scrcpy command-line tool, you can control your smartphone from the comfort of your Linux desktop and even record what you're doing onscreen.
Displaying Docker containers and their history with Go
With a monitoring system implemented in Go, Mike Schilli displays the Docker containers that have been launched and closed on his system.
Data synchronization over the Internet with Unison
Unison and SSH help you sync your directories across multiple computers.
Video surveillance with the Raspberry Pi
Set up a professional video surveillance system armed with motionEyeOS and a Raspberry Pi.
Librem 5 – The risks of crowdfunding open hardware
With the Librem 5 as a cautionary tale, Bruce ponders the risks of backing crowdfunding campaigns.
Programming with Python Turtle graphics
Create a bulb and tube analog thermometer with a Raspberry Pi and Python Turtle graphics.
This month in Linux Voice.
PiDPs and Gigatron
Maddog considers the joys of recreating ancient computers and learning about programming within these older architectures.
Space science for everyone at the Open Source CubeSat Workshop
The CubeSat community gathered in Athens, Greece to explore the possibilities for open hardware and open source software in space.
LINUX VOICE: Kube
Kube email Making Connections
Kube aims to unite your email, contact lists, calendar, and other online communications in one sleek modern package.
LINUX VOICE: Geeqie
The image viewer Geeqie is used to view and sort image collections. The tool supports numerous formats, reads metadata, and – among other things – displays the location where you took the picture on a map.
Graham explores glChAoS.P, Polar, RawTherapee, Gifcurry, Open Surge, and much more!
Posting text and images to Mastodon
Creating a custom application that toots text to Mastodon (the Fediverse's version of Twitter) is simple and straightforward. But we can mix it up by adding images and video, scheduling posts, and changing privacy settings.

Issue 231/2020
Buy this issue as a PDF
Digital Issue: Price $12.99

(incl. VAT)