Issue #218 / Jan 2019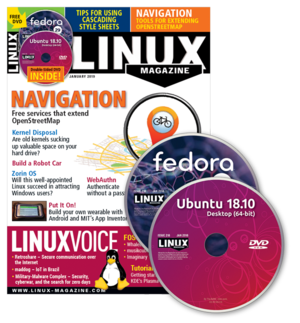 Approximate on sale dates:
UK/Europe: Dec 01
USA/Canada: Dec 28
Australia: Jan 28
Highlights:
A free mapping service is a wonderful thing, but you might not find all the information you need in OpenStreetMap's standard view. A number of other free mapping projects extend and enhance OpenStreetMap data to add new features and services. This month, we tour some useful mapping tools based on OpenStreetMap.
Other highlights include:
Kernel Disposal – Nuke those old kernels taking up space on your hard drive.
Out of Memory Killer – This important component keeps the kernel from running out of memory – but is there a better way?
Check out MakerSpace for a lesson in wearables, and read on to LinuxVoice for a report on the dark market for security exploits.
Six honest serving men
I must admit I'm prone to writing about the Internet in this space. The Internet is a big place, and there is lots to cover. I often talk about privacy and the financial forces that are shaping Internet trends. Today, though, I'm moved to consider all the weird, creepy lies that clutter up Internet blogs and so-called "news" sites. It's not that I have a solution, but I still think I might have some insights that are worthy of 700 words.
Ubuntu 18.10 "Cosmic Cuttlefish" Desktop and Fedora 29 Workstation
Updates on technologies, trends, and tools
IBM acquires Red Hat, Fedora 29 and Ubuntu 18.10 released, Redis Labs modules forked, Microsoft offers its patent portfolio.
Zack Brown reports on Linus returning to the Kernel, and coscheduling and Intel vulnerabilities.
Edinburgh 2018
The European leg of the Open Source Summit took place at the Edinburgh International Conference Centre on October 22-24, 2018. The conference was co-located with the Embedded Linux Conference and the OpenIoT Summit.
Online services that extend the capabilities of OpenStreetMap
A variety of online services rely on the data collected by the OpenStreetMap project. This article introduces you to the most useful options.
A distro for moving from Windows/Mac OS to Linux
If you are looking to migrate from Windows and Mac OS to Linux, but still need Windows compatibility and applications, Zorin OS might be the solution.
Deleting the old kernels lost on your hard drive
When you update the kernel, the old version remains on the disk. If you clean up, the reward is several hundred megabytes of free disk space.
Making the most out of Cascading Style Sheets
Cascading Style Sheets can provide a sophisticated layout for articles and books. Here are a few tips to get you started.
More light!
Since his Trådfri Smarthome article over a year ago, sys admin columnist Charly has been receiving messages from readers with two questions: "Can you do that with the Philips' Hue system?" and "Can this also be done with a normal brightness sensor?" Yes and yes!
A Go terminal UI for displaying network adapters in real time
Even command-line lovers appreciate a classic terminal UI. Mike Schilli shows how to whip up a Go program that dynamically displays network interfaces and IPs.
Facebook releases its own OOM implementation
When a Linux system runs out of memory, a special agent, the out-of-memory killer, rushes to its aid. Facebook has now introduced its own OOM killer. What makes it different from its kernel-based counterpart? And what is an OOM killer really?
Password-free authentication – FIDO2 and WebAuthn
FIDO2 authentication with WebAuthn may be sounding the end of the password age.
GoPiGo3 robot vehicle with a Rasp Pi core
The GoPiGo3 kit provides components and software for a small robot car with a Raspberry Pi brain.
An input device for keyboard shortcuts
For even simpler keyboard shortcuts, the prospective Palitra allows you to create simple macros with a programmable USB device.
Simple wearable projects with your Android phone
Create some interesting wearable projects with an Android device, an armband case, headphones, and MIT's free App Inventor package.
A hardware platform for the Brazilian IoT program
In conjunction with Caninos Loucos, maddog helps develop a hardware platform for the Brazilian IoT project.
Communication on the Internet is continuously subject to the risk of being intercepted. We show you how to eliminate curious eavesdroppers.
Modern cyberwarfare and its resulting monetary allocations have significantly impacted the exploit market, but where does that lead?
In between finding the hottest FOSS picks, Graham has rebuilt his BrewPi and is now brewing a strong winter ale. Hic.
Pretty (Inter)face
If you want features, bells and whistles, and configurability in spades, your best choice of desktop is probably KDE's Plasma desktop. Navigating and discovering all that's on offer can be a challenge, though.

Issue 219/2019
Buy this issue as a PDF
Digital Issue: Price $12.99

(incl. VAT)