Issue #185 / Apr 2016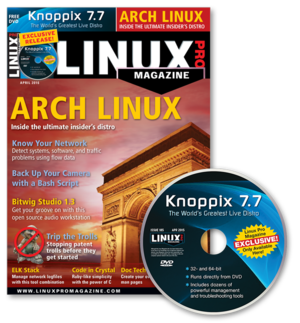 DVD: Knoppix 7.7 Exclusive Release
Approximate on sale dates:
UK/Europe: Mar 05
USA/Canada: Apr 01
Australia: May 02
Highlights:
Arch is the favorite Linux for a thriving community of programmers and power users. We'll show you why.
Security is always big news in IT. The talk today is that the Hollywood Presbyterian Medical Center, in Hollywood, California, has just suffered a crippling ransomware attack. Most of the computers at the hospital are compromised with what appears to be a variant of the CryptoWall ransomware tool.
Knoppix 7.7
Linux Magazine exclusive release of Knoppix 7.7.
Updates on technologies, trends, and tools
So what is Arch Linux really?
Arch is one of those Linux distributions that everyone knows about but few know well. Now is the time for a closer look.
Shortcut your Arch installation with Architect Linux or Arch Anywhere
Arch's manual installation maximizes flexibility and teaches you about your system, but if you're in a hurry, you might want to try a Live installer like Architect Linux or Arch Anywhere.
Exploring the world of Arch Linux derivatives
Several projects have used Arch as a starting point and shaped it in different ways. We describe some leading Arch derivatives.
Tool tests on the fast track
We test Yuck, Uftpd, Guncat, Kiwix, Miller, and Debian Package Search.
Knoppix 7.7
Knoppix 7.7 is based on the current development version of Debian GNU/Linux and comes with hardware support from kernel 4.4, including many updates and new features.
Klaus Knopper answers your Linux questions
Understanding and taming file timestamps.
Analyzing network flow records
Detect operating systems, installed software, and more from easily collected metadata.
Optimizing and visualizing GPS data
Handheld navigation devices point the way and continuously record your position while you are walking. With a few scripts on Linux, extreme climber Mike Schilli attractively visualizes the data from some of his bold first ascents.
The sys admin's daily grind: Dnstop
In last month's issue, Charly sent the lean pdnsd DNS cache down the catwalk. To see whether pdnsd really does the work expected of it, he now puts dnstop through infinite rounds in the name of names.
Crystal – A Ruby-esque programing language
Crystal is an open source project that seeks to combine the best of two worlds: the simplicity of a language syntax similar to Ruby and the speed and capabilities of the LLVM platform.
Elasticsearch, Logstash, and Kibana – The ELK stack
A powerful search engine, a tool for processing and normalizing protocols, and another for visualizing the results – Elasticsearch, Logstash, and Kibana form the ELK stack, which helps admins manage logfiles on high-volume systems.
Writing and reading man pages
Man pages provide essential information but may seem cryptic if you're not familiar with their structure. We explain how they're organized so you can get the most out of them.
Automated backup
Use the power of Bash to transform a Linux machine into a device for automatic backup of storage cards and cameras.
Bitwig Studio 1.3.5 digital audio workstation tested
Bitwig Studio 1.3.5, together with the JACK sound server, gives users the freedom to produce professional-quality tracks.
Bulkheads on the desktop – Qubes OS
Qubes OS compartmentalizes every activity on your desktop in its own VM.
Yes, Linux has issues; let's work on them
maddog reflects on the fact that Linux is not perfect, but it's still arguably the best.
Chaos Communication Congress 2015
The 32nd Chaos Communication Congress (32C3) attracted a colorful mix of 12,000 hackers to Hamburg, Germany.
SCaLE 14x Highlights
Swapnil stops in on the Southern California Linux Expo (SCaLE).
How to kill patent trolls before they are born
Lazy minds equate patent rates with innovation rates and are happy to see steady increases in the number of patents issued each year. Modern scientists and innovators know better.

Issue 189/2016
Buy this issue as a PDF
Digital Issue: Price $9.99

(incl. VAT)