Issue #165 / Aug 2014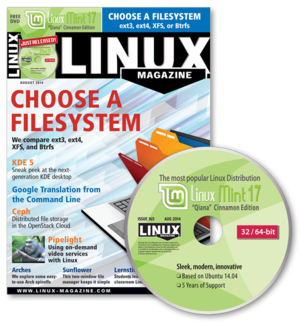 DVD: Linux Mint 17
Approximate on sale dates:
UK/Europe: Jul 07
USA/Canada: Aug 01
Australia: Sep 01
Highlights:
This month, we compare some leading Linux filesystems. We also show how to set up a storage cluster in the cloud, and we explore the userspace filesystem SSHFS.
It is no secret that Ubuntu isn't the coolest, new-kid-on-the-block distro sensation anymore – actually that news is already a few years old. Still, Ubuntu has kept itself in the headlines with community dramas, desktop debates, and a crowd-funding effort to launch a mobile phone. The Ubuntu vision is so vast and enthralling that it is hard for the press – and the Ubuntu management – to let it go: a single unifying Linux popping up on phones, tablets, desktops, servers, and other devices that no one has even invented yet.
The new Linux Mint 17 Cinnamon Edition long-term support release offers five years of upgrades, tweaks, improvements, and stability through 2019. Mint 17 has spiffed up its appearance and made changes so apps launch faster and use fewer resources.
Updates on technologies, trends, and tools
Comparing the ext3, ext4, XFS, and Btrfs filesystems
Every Linux computer needs a filesystem, and users often choose a filesystem by habit or by default. But, if you're seeking stability, versatility, or a small performance advantage, it pays to take a closer look.
Ceph and OpenStack join forces
When building cloud environments, you need more than just a scalable infrastructure, you also need a high-performance storage component. We look at Ceph, a distributed object store and filesystem that pairs well in the cloud with OpenStack.
Combining directories from multiple servers on a single mountpoint
With some simple tuning, SSHFS performance is comparable to NFS almost across the board. In an effort to get even more performance from SSHFS, we examine SSHFS-MUX, which allows you to combine directories from multiple servers into a single mountpoint.
Exploring Arch derivatives Antergos and Manjaro
Manjaro and Antergos put the power of Arch Linux in a beginner-friendly form.
A new semantic search engine for the KDE desktop
Baloo replaces Nepomuk as the semantic search engine on the KDE desktop, but it gets off to a bumpy start.
Klaus Knopper answers your Linux questions.
Exploring the next generation KDE desktop
The KDE desktop has at least a thousand tweaks for configuring your user interface down to the tiniest detail. KDE SC 5, the next generation K desktop, will be no exception.
Google Translate CLI: Translating at the command line
If you regularly work in a terminal and need to translate sections of text, you can run the Google Translate CLI tool to avoid annoying changes to the browser window.
High-resolution network monitoring with ping
The Pinger network monitoring tool uses ping to look for switches and estimate cable lengths.
The sys admin's daily grind: iWatch
Recently, sys admin Charly was faced with the task of synchronizing a directory on a server with two NFS-mounted clients. He wanted the whole thing to happen quickly and to be easily manageable, which ruled out DRBD and GlusterFS.
Calculating Probability
To tackle mathematical problems with conditional probabilities, math buffs rely on Bayes' formula or discrete distributions, generated by short Perl scripts.
Pipelight
Video-on-demand services often don't play well with Linux because they depend on Microsoft's Silverlight browser plugin. Luckily, you can call on the Wine offshoot Pipelight to rescue your next home movie night.
Using debootstrap and schroot to run a chroot jail
We provide basic instructions for using Debian's debootstrap to create a schroot jail for building and testing packages.
Sunflower – A small, highly configurable file manager
Sunflower is a highly configurable graphical file manager with two windows that implement an unusual concept by trying to integrate the command line with the file manager.
Entangle, Rapid Photo Downloader, and GTKRawGallery
Capture, transfer, process, and manage photos using the Entangle, Rapid Photo Downloader, and GTKRawGallery applications.
USB flash drives with Live Lernstick distro deliver educational software in schools
The Lernstick free distribution provides a unified and mobile environment for students and teachers. At home or in the classroom, you always have access to the same programs.
Chronicler Zack Brown reports on the latest news, views, dilemmas, and developments within the Linux kernel community.
Examining the costs of reusing old hardware
"maddog" takes a look at some of the costs, as well as advantages and disadvantages, of refurbishing old hardware.

Issue 18: Free From XP/Special Editions
Buy this issue as a PDF
Digital Issue: Price $15.99

(incl. VAT)
Tag Cloud