Issue #207 / Feb 2018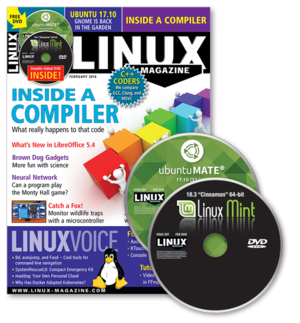 DVD: Linux Mint 18.3 Cinnamon (64-bit) and Ubuntu Mate 17.10 (32-bit)
Approximate on sale dates:
UK/Europe: Jan 13
USA/Canada: Feb 09
Australia: Mar 12
Highlights:
This month we take a look inside one of the most deeply complex and unfathomable tools in the programmer's toolkit: the compiler. We also compare the GCC, Clang, and MSVC compilers, with the emphasis on support for C++ standards. Other highlights include:
• Ubuntu 17.10 – Ubuntu gives up the Unity desktop and returns to Gnome. How's that working out? (page 30).
• Neural Network – This month's Programming Snapshot puts Python to work on a classic brain teaser. (page 42).
Check out LinuxVoice for alternative directory navigation commands and system rescue with SystemRescueCD.
Better Health
It is hard to think of writing about anything this month but net neutrality. On November 21, the US Federal Communication Commission (FCC) decided on a 3-2 party-line vote to end the requirement that service providers treat all traffic equally, opening the door to "pay to play" scenarios, where ISPs can shake down Internet companies for access to users.
Linux Mint 18.3 Cinnamon (64-bit) and Ubuntu Mate 17.10 (32-bit)
This month in the news: KubeCon concludes in Austin, Texas, Dell to disable Intel's insecure IME, Linus Torvalds' advice to security experts, GPLv3 comes to the rescue of GPL violators, and Linux Kernel 4.14 released.
Zack Brown discusses how to be a maintainer, power-up/power-down control, and smoothing out disk caching.
How compilers work
Compilers translate source code into executable programs and libraries. Inside modern compiler suites, a multistage process analyzes the source code, points out errors, generates intermediate code and tables, rearranges a large amount of data, and adapts the code to the target processor.
GCC, Clang, and MSVC compilers with C++
Due to the fast pace of updates of the C++ standards, compiler builders have been busy. How do the most popular compilers fit with the standards and what are the differences?
What's new in the free LibreOffice suite
LibreOffice 5.4 is the last major release before the big jump to version 6. In addition to a number of updates, you can now sign Writer documents with OpenPGP.
What's new in Ubuntu 17.10
Ubuntu is back to the first letter of the alphabet – and back to the Gnome desktop. But you'll also find lots of new stuff in the latest release.
Graphical tools for firewall configuration
Setting up a comprehensive firewall with netfilter and iptables is complicated. Graphic user interfaces seek to take the worries out of this demanding task.
Car NOT Goat
The well-known Monty Hall game show problem can be a rewarding maiden voyage for prospective statisticians. But is it possible to teach a neural network to choose between goats and cars with a few practice sessions?
Compress image files with Guetzli
The Guetzli image optimizer by Google developers produces smaller images than JPEG while maintaining the same quality, but it requires a powerful computer with a large working memory.
Quarrying
Sys admin columnist Charly Kühnast has an electronic note box in which he collects ideas and small snippets of code. He calls it his "quarry" and is taking this opportunity to offer up some collectors' items to regular readers.
Lossless Listening
With a little effort, you can create digital audio files with CD quality sound.
Open hardware makes science education fun
Brown Dog Gadgets is making science education more accessible and affordable with open hardware.
Raspberry Pi aids conservation work
As a countermeasure to predators of rare ground-breeding birds, live traps are monitored by a microcontroller and a Raspberry Pi.
Integrate keypads and gamepads into your next project
The Python evdev library offers a simple way to connect input devices, even if you don't know the key bindings.
Open source is for you, yes, but it's also for unknown others.
Your own personal cloud.
Audacity 2.2.0, samplv1, Spotitube, Ternimal, DriveSync, Simon Tatham's Portable Puzzle Collection, and more!
Bd, autojump, and Fasd improve the workflow for command-line aficionados thanks to quick navigation in the filesystem.
SystemRescueCd
If you accidentally delete data or format a disk, good advice can be expensive. Or maybe not: You can undo many data losses with SystemRescueCd.
At this year's DockerCon Europe, Docker announced that it is officially supporting the Google-sponsored Kubernetes ochestration engine – an unexpected development that surprised many observers.

Issue 207/2018
Buy this issue as a PDF
Digital Issue: Price $9.99

(incl. VAT)