Issue #225 / Aug 2019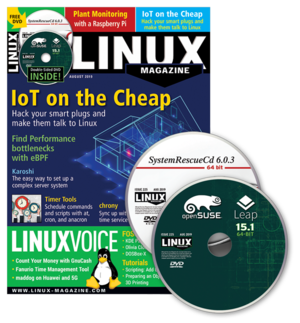 DVD: openSUSE Leap 15.1 and SystemRescueCd
Approximate on sale dates:
UK/Europe: Jul 06
USA/Canada: Aug 02
Australia: Sep 02
Highlights:
This month we show you how to hack a smart plug, reflash the firmware, and control it from a nearby Linux computer. If you love the concept of the Internet of Things but you don't like spending a lot of money on proprietary gadgets, read on for our low-tech high-tech solution. Also in this month's issue:
eBPF – explore the performance and monitoring tools available through the enhanced BPF in-kernel virtual machine.
Karoshi – an innovative Linux distro with the emphasis on simplifying configuration.
Look in MakerSpace for a look at the Rasp Pi as a function generator, and check out LinuxVoice for articles on GnuCash and the Fanurio time management tool.
Borg Reorg
Microsoft just announced that its built-in Linux kernel is available for testing. The Linux kernel that will be integrated with Windows 10 is tuned to work with the Windows Subsystem for Linux compatibility suite. Predictably, a new round of alarms went up around the Linux community – just as they did when Microsoft announced that they would soon be shipping this new Linux back in May. Microsoft distributing Linux? Is this a trick or some kind of nefarious subterfuge? Weren't they the ones who said Linux is a cancer?
openSUSE Leap 15.1 and SystemRescueCd
In the news: Chromium-Based Browsers Will Ignore Google's Ad-Blocking Ban; Zorin OS 15 Released; Ubuntu to Package Proprietary Nvidia Driver; openSUSE Leap 15.1 Released; Red Hat Enterprise Linux 8 Available; Google Brings Linux to Chromebook; and a New Class of CPU Flaws Affects Almost Every Intel Processor Since 2011.
Zack Brown reports on cleaning up dependencies on older GCC versions, protecting RAM from hostile eyes, and verifying return addresses.
Controlling a cheap smart plug from Linux
You could spend hundreds of dollars on specialized IoT appliances and fixtures, or you could just hack a smart plug and talk to it with your Linux system.
Stay punctual with chrony
The chrony implementation of the network time protocol provides an alternative to the familiar NTP daemon.
Scheduling Commands and Scripts
The at command and the related cron and anacron can help you efficiently schedule tasks, whether one-time events or jobs to be done repeatedly.
Get deeper insights into your system with eBPF
Use the eBPF in-kernel virtual machine to identify resource bottlenecks and optimize your installation.
Integrated client/server solution
Intranets with multiple servers and services require careful configuration. With Karoshi Linux, even complex structures can be set up in no time at all.
Salad Grower
Columnist Charly Kühnast recently attached Mi Flora humidity sensors to his potted plants. At first, they only transmitted junk on Bluetooth, but armed with the right tools and a Rasp Pi, Charly now reaps a rich harvest of data.
Go program finds photos with nearby GPS coordinates
Every photo you take with your mobile phone stores the GPS location in the Exif data. A Go program was let loose on Mike Schilli's photo collection to locate shots taken within an area around a reference image.
SystemRescueCd – a live system that rescues data and systems
The SystemRescueCd live system contains numerous tools that you can use to recover deleted files or a defective system.
DDS-based Rasp Pi function generator
A touch display, a case, and a custom add-on board transform the humble Rasp Pi into a high-performance function generator that rivals expensive commercial offerings.
Support for the Librem 5 Phone
Ahead of the Librem 5 phone release, Purism releases a suite of communications applications called Librem One, including Chat, Mail, and more. But how accessible are these apps for average users?
Go programming on a Raspberry Pi
We show you how to create a Go web app that controls Raspberry Pi I/O.
This month in Linux Voice.
Innovative time management with Fanurio
If you need to accurately measure time spent on individual projects and tasks, you need something more sophisticated than yellow sticky notes. Fanurio helps you keep an eye on your time, your projects, and more.
This month's FOSSPicks was nearly lost in a stream of AES-256 noise, as Graham struggled to get his encrypted Linux installation (using LUKS) to live alongside an encrypted macOS installation (using APFS). This month he explores Olivia, DIN Is Noise, Kaidan, termshark, Worldview, Snipes, and more!
Making your scripts interactive
Letting your scripts ask complex questions and give user feedback makes them more effective.
Preparing an object for 3D printing
Having covered several ways to design your 3D object, let's cover how we prepare your design for printing.

Issue 225/2019
Buy this issue as a PDF
Digital Issue: Price $12.99

(incl. VAT)