08: ADMIN Active Directory / Jun 2010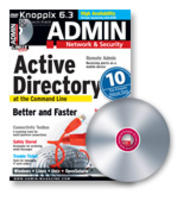 DVD: Knoppix 6.3 & Backtrack Network Security Suite
Managing Active Directory at the command line
Professionally manage Active Directory users, groups, and other AD objects with Windows PowerShell Version 2.0.
Sys admin on the go
Keep track of your job when you're not in the office.
Virus scanner and content filter with AD authentication
You might want to reap the benefits of active directory's single sign-on for your virus scanning and content filtering. If you also use Squid to handle user access to the internet, you have a front-row seat for "when worlds collide."
Techniques for archiving email
Email archiving involves more than just backing up your email directories. It is also a question of classifying the email and making it easier for users to find their way around overfilled email folders.
Visit Our Shop
Direct Download
Tag Cloud