Issue #28: GIMP Handbook 4th Ed. / Jan 2017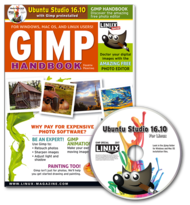 Cover Theme: GIMP Handbook
DVD: Ubuntu Studio 16.10 for Linux
Download this issue as a PDF:
116 pages
Price $15.99

This single issue is a complete guide to the GNU Image Manipulation Program (GIMP), a remarkable photo editing tool that is available for free for all recent versions of Windows, Mac OS, and Linux.
The DVD included in this issue contains GIMP installation files for Windows and Mac systems (look in the /gimp directory). GIMP comes pre-installed on most Linux systems. If you would like to compile GIMP yourself using the freely available source code, see the article on page 6.
For more on obtaining GIMP, visit www.gimp.org/ downloads.
Get Started
Installing GIMP
GIMP 2.9
Exploring GIMP
Settings
Basic Functions
Practice
Layers
Selection
Colors
Paths
Text and Logos
Photo Processing
Sharpening
Light and Shadow
Retouch
GIMP Maps
Know-How
G'MIC
UFRaw
Painting
Fine Art HDR Processing
Animation with GIMP
* Google Play Magazines available in AUS, CA, FR, DE, IT, UK, USA
Visit Our Shop
Direct Download
Buy this issue as a PDF
Digital Issue: Price $15.99

(incl. VAT)
News
Both projects help organizations build their own containerized systems.

Mark Shuttleworth has resumed the position of CEO of Canonical.

Microsoft's open source code hosting platform CodePlex will come to an end after a more than 10-year stint.

Comes with Gnome 3.24

The bug was introduced back in 2009 and has been lurking around all this time.

The new release deprecates the sshd_config UsePrivilegeSeparation option.

Lives on as a community project

Five new systems join Dell XPS 13 Developer Edition that come with Ubuntu pre-installed.

The Skype Linux client now has almost the same capabilities that it enjoys on other platforms.

At CeBIT 2017, OpenStack Day will offer a wide range of lectures and discussions.