Issue #195 / Feb 2017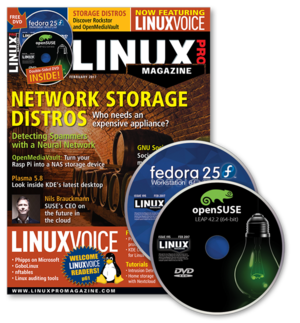 DVD: openSUSE Leap 42.2 (64-bit Install) and Fedora 25 Workstation (64-bit Live)
Approximate on sale dates:
UK/Europe: Dec 31
USA/Canada: Jan 20
Australia: Feb 20
Highlights:
This month we show you how to set up a network-attached storage system with a Raspberry Pi and explore the latest release of KDE's Plasma Desktop.
Other highlights:
Spam-Detecting Neural Network – Create a homebuilt neural network using Google's TensorFlow library, and train it to look for spammers (page 37).
Image Recognition – The Perlmeister extracts action sequences from surveillance videos using the OpenCV image recognition tool (page 52).
Also, lots more at Linux Voice, including a look at the innovative GoboLinux and a study of Linux auditing tools.
No Missiles
A couple of insightful commentaries in this issue are already covering the news that Microsoft is joining the Linux Foundation (see Simon Phipps and Andrew Gregory inside). Since this column is the last to get written – usually right before we go to print, I'm really supposed to talk about things that aren't already covered in the issue, but this really is big news.
openSUSE Leap 42.2 (64-bit Install) and Fedora 25 Workstation (64-bit Live)
Updates on technologies, trends, and tools
Chronicler Zack Brown reports on the latest news, views, dilemmas, and developments within the Linux kernel community.
An interview with SUSE CEO Nils Brauckmann
Looking back at 25 years of Linux and SUSE and forward toward the brave new world of containers and the cloud.
Build a NAS system with OpenMediaVault and a Raspberry Pi
A NAS system does not have to be large, heavy, and expensive. A Raspberry Pi and the OpenMediaVault Linux distro are a compact alternative to heavy and costly NAS.
Optimal DIY NAS with Rockstor Linux
Rockstor Linux turns a microserver into a fully functional NAS.
Linux Lite 3.0 for legacy systems
Lean Linux distributions compete for the favor of users with older hardware. Linux Lite enters the scene with some interesting options for achieving simplicity with full functionality.
Plasma 5 with long-term support
KDE is steering the Plasma 5.8 desktop into calmer waters through long-term support, while the developers continue to extend and perfect.
Encrypt files and folders with TruPax 9
The TruPax tool specializes in encrypting small datasets to safeguard your data from prying eyes.
Detecting spam users automatically with a neural network
Build a neural network that uncovers spam websites.
Klaus Knopper answers your Linux questions about Android USB backup.
Mail-merged party invitations with gLabels
Add an individual touch to invitations or cards to help your event start with a bang.
The sys admin's daily grind – httpstat
Httpstat is a special stopwatch you can use to discover how long web servers take to serve up a static or dynamic HTML page. Visible performance lags indicate optimization potential for the server.
Time-saving preview of surveillance videos
Rather than stare at boring surveillance videos, in which nothing happens 90 percent of the time, Mike Schilli tries the OpenCV image recognition software, which automatically extracts the most exciting action sequences.
Security audits with Lynis
Running a security audit periodically on your system lets you spot unexpected changes and possible weak points.
Introduction
It's no secret that 2016 has brought a lot of change to the world. The political destinies of both Europe and America have shifted in ways that seemed almost inconceivable just a few years ago, and that's without mentioning the scores of beloved celebrities that are no longer with us. Here in the UK there's been yet another political shift this month, though one we've long seen coming.
LINUX VOICE: News
The Linux Voice view on what's going on in the world of Free Software.
Hey, everybody, they are still Microsoft.
Linux Foundation eunt domus!
We're gonna need a bigger bazaar.
Continuing Education
No matter who the US President is or why, it's the citizens who need to understand how they can prepare for the jobs that are begging to be filled in modern economies.
Out with the old, in with the new
Explore this novel Linux distro, which throws out the old Unix filesystem hierarchy in favor of something more modern.
LINUX VOICE: FAQ
Linux's Next-Generation Firewall
Nftables promises to be the future of Linux firewalls. Meet iptables' replacement.
Audit Your Linux Box
Look for intruders and study the health of your system with Linux auditing tools.
Sparkling gems and new releases from the world of Free and Open Source Software
Graham tears himself away from updating Arch Linux to search for the best new free software.
LINUX VOICE: Gaming
The tastiest brain candy to relax those tired neurons
Deus Ex: Mankind Divided, Transport Fever, Total War: Warhammer.
Digital Self-Defense
No computer security is perfect, so make sure you've got a second line of protection.
Set up your own cloud
Get all the benefits of cloud storage and calendars without governments and megacorps spying on you.

Issue 195/2017
Buy this issue as a PDF
Digital Issue: Price $9.99

(incl. VAT)