Issue #194 / Jan 2017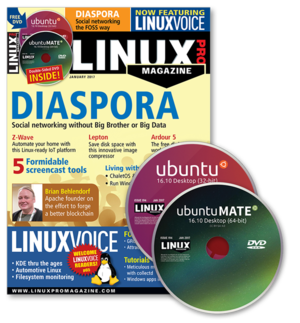 Approximate on sale dates:
UK/Europe: Nov 26
USA/Canada: Dec 23
Australia: Jan 23
Highlights:
This month we show you social networking the FOSS way with Diaspora and examine a couple Linux distros that will ease the transition from Windows to Linux.
Other highlights:
Debian LTS – the quintessential Free Linux gets long-term support – find out how they did it.
Z-Wave – use this wireless IoT protocol to automate smart devices in your home.
Our friends at Linux Voice have another great issue, with tutorials on Wine and Collectd, as well as an illuminating look at 20 years of KDE.
The nature of the print publishing industry demands that I write this column some time before you read it. The first copies go on sale two weeks after our deadline, and, depending on where you live in the world, you could be seeing this issue one month or even two months after these words reach layout. Print publishing lives on because it has many admirable qualities, but low latency is not one of those benefits. This introduction is my graceful way of apologizing that what I'm thinking about now is probably not what you're thinking about when you read this. I'm thinking about the election in the US, which is happening the very day I write this column. You already know who won, and you are happily free from having to think about it, but maybe you should.
Ubuntu 16.10 Desktop and Ubuntu Mate 16.10 Desktop
Updates on technologies, trends, and tools
Chronicler Zack Brown reports on the latest news, views, dilemmas, and developments within the Linux kernel community.
An interview with Brian Behlendorf
Apache developer, Brian Behlendorf, talks about Hyperledger and blockchains.
Social networking the FOSS way with Diaspora
Diaspora is a free and open source decentralized social network consisting of millions of independently run pods. Join an existing pod or set up your own with minimal programming skills.
Exploring the Windows-like Linux distros ChaletOS and Zorin OS
ChaletOS and Zorin OS are two Ubuntu derivatives designed for users who are migrating from Windows.
Five screencast programs tested
To make audiovisual content easy to understand, you can use screencast programs, of which Linux has a few.
Debian's long-term support experiment
The Debian project is extending its famous development process to offer long-term support.
Ardour DAW – Fifth Generation
The fifth generation of the free Ardour digital audio workstation is easier to operate, offers more Lua support, and comes with a variety of improvements and extensions.
Compress JPEG images with Lepton
Lepton lets you compress your photo files to make room for more.
The sys admin's daily grind – Searx
It goes against the economic rationale to assume that commercial search engines have the best interests of users at heart when it comes to data protection and use. Sys admin Charly has found an alternative.
Z-Wave – Basics of wireless technology for the smart home
Z-Wave connects components in the smart home and ensures that remote commands from the control station take effect on real household appliances. We look at how it works, its range, the security of the protocol, and some basics that every Z-Waver should know.
Source code browsers
If you've ever struggled to get a sense of someone else's code, the right tool could save you hours of grepping.
Klaus Knopper answers your Linux questions
Controlling brightness, forensic mode, and proprietary Broadcom WiFi drivers.
Configuration files for converting audio files
Learn how to convert your music files to Ogg Vorbis for casual use or to Flac for more refined playback.
Introduction
Looking forward to a third decade of the KDE desktop.
LINUX VOICE: News
The Linux Voice view on what's going on in the world of Free Software.
Is that "SEO expert" really helping?
UK's Cyber Strategy Document
The UK's National Cyber Security Strategy doc is worth every penny of the free download cost.
The "Kool" desktop is almost as old as Justin Bieber – and far more stable.
We look at the ups and downs of the past two decades of the "Kool" desktop.
LINUX VOICE: FAQ
FAQ
We answer your questions about the Automotive Grade Linux project.
Filesystem monitoring
Notification APIs in LInux.
Sparkling gems and new releases from the world of Free and Open Source Software
Graham tears himself away from updating Arch Linux to search for the best new free software.
LINUX VOICE: Gaming
The tastiest brain candy to relax those tired neurons
Build the ultimate Magnum Opus for a Mad Max stripped of his possessions.
Cool and Collected with collectd
The collectd tool harvests your system stats and stores them for plotting into colorful graphs.
Windows Apps on Linux with Wine
Convert your home/office/friends to be completely Microsoft-free with our tips and tricks.

Issue 194/2017
Buy this issue as a PDF
Digital Issue: Price $9.99

(incl. VAT)