Issue #232 / Mar 2020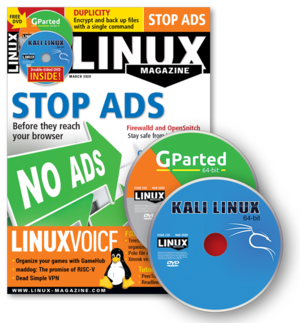 DVD: GParted and Kali Linux
Approximate on sale dates:
UK/Europe: Feb 08
USA/Canada: Mar 06
Australia: Apr 06
Highlights:
Web ads and ad scripts can slow down your system and gum up your web experience. Browser-based ad-blockers are useful for controlling many types of popups and banners, but they are less effective with ads built into applications – and they are often difficult to implement on mobile devices. This month we look at a couple of alternative tools for blocking ads at the network level: Pi-hole and Privoxy. Also in this issue:
Firewalld and OpenSnitch – a practical workshop on configuring firewalls for outgoing, as well as incoming, traffic.
Create a Personal Web Archive – Future-proof your bookmark library by downloading and archiving web pages.
Check out MakerSpace for a study of the tiny BBC micro:bit, and turn to this month's LinuxVoice for a look at how to build a unified game library with GameHub.
Economies of Ink
The "paperless office" was once the dazzling vision of futurists and keynote speakers. Tech blogs and efficiency gurus have been talking about eliminating printers for at least 20 years, but it never really happened – or at least, not yet.
GParted and Kali Linux
In the news: Kubuntu Focus Laptop Is Now Ready for Preorder; Dell Adds a Much-Requested Feature to the New XPS Developer Edition Laptop; Bonsai Promises to Make Syncing Gnome Devices Easier; and Huawei Releases CentOS-Based openEuler as Open Source.
Zack Brown reports on: Line Ending Issues; Hardware Hinting; and Simplifying the Command Line.
Streamlined Management
Jaime Crespo, from the Wikimedia Foundation, discusses the challenges of managing one of the world's largest collaborative knowledge projects.
Block ads and trackers across your network with Pi-hole
The Pi-hole ad blocker filters ads and trackers from the data stream for all devices on the network, from your smartphone to your toaster.
Killing ads with the LAN-level Privoxy web proxy
Add-on ad blockers can help mitigate the degradation of your browsing experience, but sometimes you need to bring stronger weapons. A filtering web proxy can scrub web traffic to eliminate unwanted ads and scripts.
Workshop: Lock down your Linux system with Firewalld and OpenSnitch
For maximum security, you'd better watch traffic in both directions. This hands-on workshop takes you through the steps of setting up firewalls for outgoing as well as incoming traffic.
Solving the River Crossing Puzzle with Go
How does a ferryman transport a wolf, a goat, and a cabbage across a river in a boat that can only carry the ferryman plus one item at a time, without the wolf eating the goat or the goat eating the cabbage while left together back on shore? Mike programs the solution in Go.
Make Room!
In order to avoid complaints from his children, Charly prefers to use lshw instead of a screwdriver to analyze his home firewall PC's hardware details.
One-Step Encryption and Backup Tool
With a single command, duplicity lets you encrypt and back up files. All you need to do is learn its unconventional command structure.
Making an online archive of all your bookmarked pages
If you have a large collection of bookmarked pages, it's worth protecting! With the right scripts, you can create an archive so you never lose access to all your favorite web pages.
Using the curses library to view IoT data
When you need some quick graphical output, the old school curses library can save you some time and effort.
Microcontroller programming with BBC micro:bit
Designed for students, the BBC micro:bit, in conjunction with MicroPython and the Mu editor, can help you get started with microcontroller programming.
Audio Builders Workshop Teaches Soldering Basics
When it comes to DIY maker projects, if you don't know how to solder, your options are limited. Audio Builders Workshop remedies this with two kits, plus workshops, to give you hands on soldering experience.
Introduction
This month in Linux Voice.
Views on the 2019 RISC-V Summit
While attending the second summit on RISC-V architecture, maddog was blown away by the level of openness and collaboration.
GameHub displays all your games in a single interface
If you regularly buy games through Steam, GOG, and Humble Bundle, GameHub can help you keep them organized by bringing them all together into a single library.
Building a secure, simple VPN connection
With a single command, Dead Simple VPN builds a secure VPN connection.
Graham looks at TreeSheets, rare, McFly, b2, DrumGizmo, A/B Street, Xmonk, and much more!
Freer Video Hosting and Sharing
With PeerTube you can self-host your videos without the limitations embedded in YouTube and similar platforms.
Using Readline Functions in Bash
Readline provides you with a rich set of tools for working with text and moving around quickly and efficiently on the command line.

Issue 38: 101 Cool Linux Hacks/Special Editions
Buy this issue as a PDF
Digital Issue: Price $15.99

(incl. VAT)