Adobe Flash in Linux
Flashed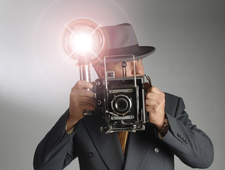 PPAPI, NPAPI, Pepper Flash, Fresh Player – just a lot of gibberish? We check out the background of Flash in Linux and provide tips on how to rule out the worst bugs in the technology.
Adobe Flash may be becoming less and less important with the rise of HTML5, but the much-maligned plugin is still the most widely installed browser add-on in the computer world. Hardly a web browser operates without Flash, even in the Linux world.
The latest developments in Flash are causing a considerable amount of confusion. In this article, I describe some recent changes across the Flash landscape and give some tips on setting up Flash on a Linux system.
Peppered
Adobe completely discontinued the development of standalone Flash plugins for Linux in February 2012 [1]; however, they still support a plugin for Google's Native Client (NaCL) technology, which uses the Pepper Plugin API (PPAPI) [2]. Adobe supplies only the bare essential security updates for the legacy plugin with the Netscape Plugin Application Programming Interface (NPAPI).
Google announced the PPAPI in 2009 as an effort to provide "a set of modifications to the NPAPI to make plugins more portable and more secure." Google's Chrome and Chromium browsers support the PPAPI, and they therefore provide seamless support for the next-generation PPAPI-based Flash plugin. As you will learn in this article, other browsers, such as Mozilla's Firefox, don't support the PPAPI and therefore don't work with the most recent Flash versions.
Adobe does not offer Pepper Flash anywhere for download: You can only get the plugin in combination with Google Chrome.
Flashed Chrome
To get Flash onto your Linux computer with a minimum amount of stress, your best bet is to install Google's Chrome browser. Adobe has been working hand-in-hand with Google since Chrome 35 to fine-tune the Flash plugin for the Chrome browser. The latest version of Adobe Flash is no longer available as a download; Adobe only distributes it as a fixed part of Chrome.
You cannot get Chrome via the package sources in many distributions; instead you have to download directly from Google. Google also offers 32-bit and 64-bit packages in RPM or DEB format on the browser's homepage [3]. You can install such a package in most distributions by double-clicking on the file via a graphical front end for package management – for example, in Ubuntu via the Software Center.
Flash works right after installing the browser; you do not need to import any plugins or packages. Open Adobe's Flash test page [4] for a quick function test and check the Flash version reported from the page (Figure 1). As of October 2014, the version should be 15.0.0.xxx. The current Pepper Flash has several advantages over Adobe Flash 11.2: It works a little better with multimonitor setups, meaning that Flash videos in full screen do not disappear if you click on the second, free monitor.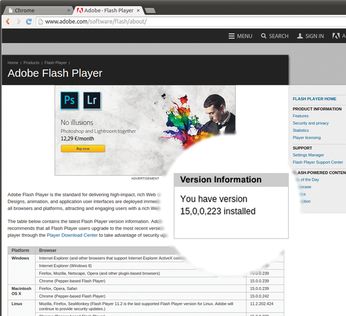 Figure 1: Google's Chrome browser inherently always includes the latest version of Flash.
Firefox and Opera
Neither Firefox nor Opera 12.x supports PPAPI plugins, thus ruling out the current Pepper Flash version. Therefore, you have no choice but to install the ancient Adobe Flash 11.2. Adobe might still occasionally deliver security updates for this version, but new features and improvements such as multimonitor support are still withheld from the user.
The Flash plugin can usually be installed in Firefox or Opera up to version 12.x. Table 1 shows the corresponding commands for the most popular distributions. Restart the browser after setting up the plugin and check the Adobe Flash test page to make sure everything worked. The pseudo-URLs about:plugins (Firefox) or opera:plugins (Opera) also now list Flash as an integrated browser plugin.
Installing Adobe Flash 11.2
| Distribution | Command |
| --- | --- |
| Debian | sudo apt-get install flashplugin-nonfree |
| Fedora | Fedora only includes free software in its package sources; installing Adobe Flash is therefore a little more time-consuming [5]. |
| openSUSE | sudo zypper install flash-player |
| Ubuntu, Linux Mint | sudo apt-get install flashplugin-installer |
Read the "Flash Videos in Gnome 3 in Full Screen" box if you are having problems playing web videos streamed in Flash in full-screen mode in Gnome 3: It shows how to sort out the problem with the versatile Devil's Pie tool.
Flash Videos in Gnome 3 in Full Screen
If you are using Firefox with the old NPAPI Flash plugin, a new bug [10] in the window manager means, among other things, that the sound continues to play, but the movie stops, when playing Flash videos and switching from full screen back to the window. The Devil's Pie [11] program helps you handle this error.
Install the program via your distribution's package manager and create the ~/.devilspie/flash-fullscreen-firefox.ds configuration file with the contents of Listing 1. If started with devilspie -d, when playing a Flash video in full screen, the program outputs Focusing when it has detected the Flash window and moved it to the foreground. Listing 2, whose contents you save as ~/.config/autostart/devilspie.desktop, finally ensures that Devil's Pie starts automatically at login.
~/.devilspie/flash-fullscreen-firefox.ds
~/.config/autostart/devilspie.desktop
comments powered by

Disqus
---
Support Our Work
Linux Magazine content is made possible with support from readers like you. Please consider contributing when you've found an article to be beneficial.
---